Versa 3 is Fitbit's latest smartwatch which is parked with lots of amazing features. One of these features is the ability to connect your Fitbit and Amazon Alexa account so that you can have access to Alexa on your Fitbit Versa 3. When you link Alexa to your Fitbit Versa 3 you will have the ability to use Alexa to ask questions, set an alarm, check the weather, and so on. Also, note that connecting your Fitbit Versa 3 to your Alexa account might take a few minutes. This post will show you how to set up Alexa voice assistant for Fitbit Versa 3 in simple steps.
How to Setup Alexa on Fitbit Versa 3
Follow the below steps to set up Amazon Alexa's voice assistant on your Versa 3.
Step 1: Open the Fitbit app on your Android or iOS smartphone and log in, this will take you to Fitbit today's screen.
Step 2: Tap on the profile icon at the upper left corner of the screen.

Step 3: Tap on Fitbit Versa 3 from the list of connected devices, this will take you to the Versa 3 interface.
Step 4: Tap Amazon Alexa from the Versa 3 interface. The Amazon Alexa screen will be displayed.

Step 5: Tap "Login with Amazon" below the screen. A dialogue box will then appear on the screen notifying you that the Fitbit app wants to open Amazon, If you're not registered with Amazon, you'll need to that, then login to continue.

Step 6: Tap on "Get started" at the bottom of the screen. An Amazon consent screen will open. Review the Amazon consent screen, and if you agree, then tap "Allow" below the screen if you want to continue.
Step 7: The next screen asks if you want to share your current location with Amazon for better responses. Choose between "Use Location" or "Not Now" below the screen depending on your preference.
Step 7. The Alexa option for Fitbit screen appears, asking you to choose what data you would like to give Alexa access to. Make your selections, and tap "Allow". The connected screen appears, informing you that you have successfully connected your Fitbit Versa 3 to your Amazon Alexa account.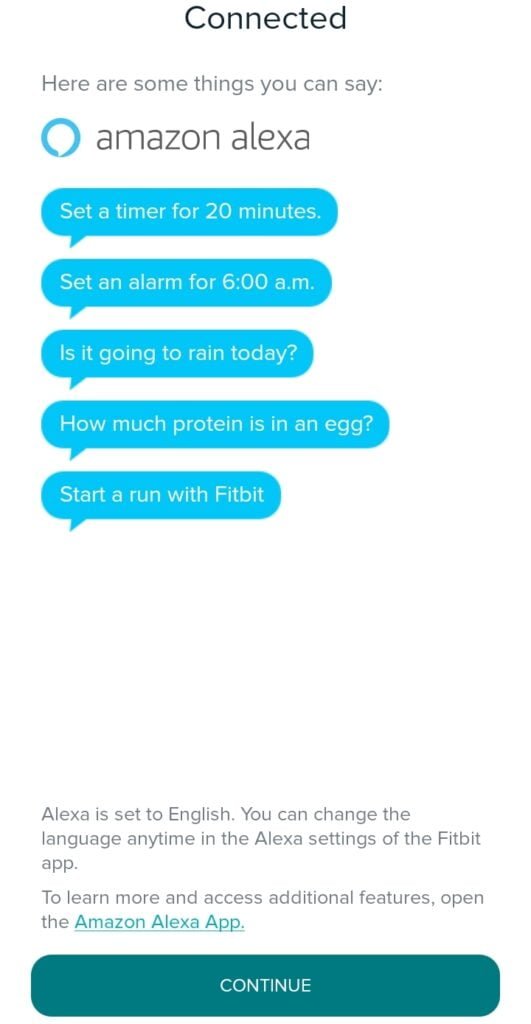 If you wish and to make it easier to access Alexa on Versa 3, you need to assign a shortcut to the haptic button on Versa 3. There are two types of shortcuts that you can assign to the haptic button; a long-press shortcut and a double press shortcut. Both shortcuts can be configured from the Settings app on Versa 3.
Assign Alexa Voice Assistant Shortcut to Versa 3
Follow the steps below to assign Alexa as a shortcut to the haptic button on Versa 3.
Swipe from left to right from Fitbit Versa 3 homescreen until you see the settings app, and then tap on it.

Scroll to the shortcut session, and tap on it.
You should see "Press and Hold", tap on it to change the features it controls, stop when it says, Alexa. With this, whenever you hold down the left button on your versa 3 for a couple of seconds "Alexa" will pop up on your smartwatch screen for you to engage with.

Secondly, you can also assign Alexa to the favorite apps shortcut which is just below the long-press shortcut. Find "Double Press" and add Alexa as one of your favorite apps. Once set, when you double press the haptic button, you should see Alexa on the favorite apps list.