Just like the Fenix 7 Series, the Fenix 6 comes in three sizes; the smaller Fenix 6s, medium-sized Fenix 6, and the bigger Fenix 6x. Each of these is available in four different models except for the Fenix 6x which is available in three models. You have a Standard edition and a more equipped Pro edition as well as Sapphire and Solar editions which are only available in the Pro editions. In this post, we're comparing the differences between the Garmin Fenix 6 vs 6 Pro to help you make a more informed decision.
Basically, the Fenix 6 and Fenix 6 Pro are the same in almost every aspect except for the few additional features present in the Pro edition. Both have the same design, and battery life with lots of features in common. However, the Fenix 6 Pro comes with 32GB storage capacity which allows for onboard music storage and also allows you to load maps.
Note that there are 11 members in the Fenix 6 series; the Standard, Pro, Pro Sapphire and Pro Solar editions. While the Fenix 6x comes in three models, the Fenix 6 and 6s come in four models. There is no Standard edition of the Fenix 6x.
The difference between each of these models is that the Standard editions lack trendline popularity routing, PacePro, ski maps, and the ability to preload music. Moreover, the Sapphire edition has a sapphire screen and Diamond-like Carbon (DLC) coated bezel compared to Corning Gorilla DX screen and stainless steel bezel of the Standard and Pro editions.
Meanwhile, the Pro Solar edition has a power glass for solar charging and a titanium bezel and is the most expensive.
Garmin Fenix 6s, 6s Pro, 6s Pro Sapphire and 6s Pro Solar.
Garmin Fenix 6, 6 Pro, 6 Pro Sapphire and 6 Pro Solar.
Garmin Fenix 6x Pro, 6x Pro Sapphire and 6x Pro Solar.
Garmin Fenix 6 vs 6 Pro: Specifications Compared
 
 
Product Info

Garmin Fenix 6 Specifications, Features and Price

Garmin Fenix 6 Pro Specifications, Features and Price

Price

$

279.99
ABOUT DEVICE
ABOUT DEVICE
ABOUT DEVICE
Device name
Garmin Fenix 6
Garmin Fenix 6 Pro
Device type
Fitness/Sport smartwatch
Fitness/Sport smartwatch
Gender
Men
Men
Release date
September, 2019
September, 2019
Predecessor
Garmin Fenix 5 Plus
Garmin Fenix 5 Plus
Successor
—
—
Versions
—
—
BODY
BODY
BODY
Dimension
47 x 47 x 14.7 mm
47 x 47 x 14.7 mm
Weight
80 grams
83 grams
Shape
Circular
Circular
Case material
Fiber-reinforced polymer
Fiber-reinforced polymer
Strap material
Silicone
Leather, Nylon, Silicone, Titanium
Bezel material
Stainless steel
DLC, Stainless steel, Titanium
Strap size
22 mm
22 mm
Interchangeable strap
22 mm, Yes
22 mm, Yes
Screen protection
Corning Gorilla Glass DX
Corning Gorilla Glass DX, Sapphire glass
Water resistance
10 ATM
10 ATM
Durability test
—
MIL-STD-810G
Swim-proof
Yes, recommended
Yes, recommended
Color
Black
Black
DISPLAY
DISPLAY
DISPLAY
Display size
1.3 inches
1.3 inches
Display type
LCD, Memory-in-pixel (MIP), transflective
LCD, Memory-in-pixel (MIP), transflective
Display resolution
260 x 260 px
260 x 260 px
Pixel density
—
—
Always on
Yes
Yes
Custom watch face
Yes
Yes
Input type
5 Physical buttons
5 Physical buttons
CONNECTIVITY
CONNECTIVITY
CONNECTIVITY
Bluetooth
ANT+, Bluetooth
ANT+, Bluetooth
Bluetooth calling
Yes
No
GPS
Galileo, GLONASS, GPS
Galileo, GLONASS, GPS
NFC
Yes
Yes
Wi-Fi
No
Yes
MEMORY
MEMORY
MEMORY
RAM
—
—
ROM
—
32GB
Memory card slot
No
No
CELLULAR CONNECTIVITY
CELLULAR CONNECTIVITY
CELLULAR CONNECTIVITY
Technology
None
None
SIM type
None
None
Band
—
—
NOTIFICATIONS
NOTIFICATIONS
NOTIFICATIONS
SMS alert
Yes
Yes
Calls alert
Yes
Yes
Email alert
Yes
Yes
Event reminder
Yes
Yes
Third-party apps alert
Yes
Yes
Reply to Notifications
-
-
MEDIA
MEDIA
MEDIA
Audio
No
mp3/mp4
Bluetooth music
No
Yes
Loudspeaker
No
No
Microphone
No
No
Camera
No
No
Radio
No
No
SENSORS
SENSORS
SENSORS
Sensor(s)
Thermometer
—
ACTIVITY TRACKING
ACTIVITY TRACKING
ACTIVITY TRACKING
Blood oxygen
Yes
Yes
Blood Pressure
No
No
Calories
Yes
Yes
Distance
Yes
Yes
ECG tracking
No
No
Heart rate monitoring
Yes
Yes
Sleep tracking
Yes
Yes
Steps
Yes
Yes
Floors climbed
Yes
Yes
Stress
Yes
Yes
Fall detection
Yes
Yes
Menstrual cycle
Yes
Yes
VO2 Max
Yes
Yes
Swim-tracking
Yes
Yes
Underwater heart rate tracking
Yes
Yes
On-screen workout
Yes
Yes
Sport modes
Yes
Yes
BATTERY
BATTERY
BATTERY
Battery type
non-removable Lithium-polymer
non-removable Lithium-polymer
Battery capacity
—
—
Battery life
Battery saver mode: 48 days, Expedition GPS mode: 28 days, Smartwatch mode: up to 14 days
Battery saver mode: 48 days, Expedition GPS mode: 28 days, Smartwatch mode: up to 14 days
Charging type
Charging dock
Charging dock
Charging time
1-2 hours
1-2 hours
Solar charging
No
No
PLATFORM
PLATFORM
PLATFORM
Chipset
—
—
CPU
—
—
GPU
—
—
Operating system
Proprietary OS
Proprietary OS
MISC
MISC
MISC
Companion app
Garmin Connect
Garmin Connect
Compatibility
Android 5.0+, iOS 11.0+
Android 5.0+, iOS 11.0+
Payment system
Garmin Pay
Garmin Pay
Voice command
No
No
Find my phone
Yes
Yes
Box content
Charger, Garmin Fenix 6, Manual, Straps
Charger, Garmin Fenix 6 Pro, Manual, Straps
Garmin Fenix 6 vs 6 Pro: Fitness Tracking Features
Garmin Fenix 6
Garmin Fenix 6 Pro
Activity Tracking Features

Steps counter, floors climbed, fitness age, Move IQ
intensity minutes and distanced traveled.
Yes
Yes
Body Battery Energy Monitor

Lets you see your body's energy levels throughout the day so you can find the best times for activity and rest.
Yes
Yes
Pulse OX Sensor

The Pulse Ox sensor gauges your blood oxygen saturation during the day and as you sleep to show how well your body is absorbing oxygen.
Yes
Yes
Stress Tracking

Helps you find out if you're having a calm, balanced or stressful day. Relax reminders will even prompt you to do a short breathing activity when you're feeling stressed.
Yes
Yes
Menstrual Cycle Tracking

Lets you use the Garmin Connect™ app to track your cycle, log physical and emotional symptoms and learn about training and nutrition during each phase of your cycle. Even get cycle tracking information on your wrist.
Yes
Yes
Hydration Tracking

Log your daily fluid intake as a reminder to stay hydrated. You can even have an auto goal for hydration that adjusts based on how much sweat you lose during activities — even underwater.
Yes
Yes
Respiration Tracking

See how you're breathing throughout the day, during sleep and during breath-work and yoga activities.
Yes
Yes
Advanced Sleep Monitoring

Get a full picture of how you're sleeping, with a breakdown of your light, deep and REM sleep stages as well as Pulse Ox and respiration data
Yes
Yes
Heart Rate Tracking

The watch constantly samples your heart rate2 and will alert you if it stays high while you're at rest. It also helps gauge how hard you work during activities even underwater.
Yes
Yes
Mindful Breathing

When you want to relax or focus, you can start a breath-work activity, and this watch will track your stress and respiration to help you get a better understanding of how you're breathing.
Yes
Yes
On-Screen Animated Workout Modes

Easy-to-follow, animated cardio, strength, yoga and Pilates workouts come preloaded on the watch, and you can download more from the Garmin Connect app.
Yes
Yes
Preloaded Workout Modes

Track all the ways you move with more than 20 preloaded GPS and indoor sports apps — including walking, running, cycling, pool swimming, golf and more.
Yes
Yes
Garmin Coach

Get a personal running coach on your wrist, for free, to help you train for your next 5K, 10K or half-marathon.
Yes
Yes
Safety and Tracking Features

When your watch and phone are paired, your live location can be sent to your contacts manually or — during outdoor activities — automatically with built-in incident detection.

Also Livetrack, Group LiveTrack and Live event sharing allow you to invite other to join you in your training.
Yes
Yes
Gym & Fitness Equipment

Available gym profiles; Strength, Cardio and Elliptical Training, Stair Stepping, Floor Climbing, Indoor Rowing, Pilates and Yoga.
Yes, and more
Yes, and more
Training, Planning and Analysis Features

Available run profiles; Running, Treadmill Running, Indoor Track Running, Trail Running.

GPS speed and distance, customizable activity profiles, advanced training, VO2 Max., heat and altitude acclimation, training load, training effect, auto and manual mutisport activities, Garmin and Strava live segments.
Yes, and more
Yes, and more
ClimbPro Feature

Use ClimbPro ascent planner on downloaded courses to see real-time information on your current and upcoming climbs, including gradient, distance and elevation gain.
Yes
Yes
Outdoor Recreation Features

Outdoor recreational features include hiking, climbing, mountain biking, skiing, snowboarding, XC skiing, stand up paddleboarding, rowing, kayaking, jumpmaster, tactical
Yes, and more
Yes, and more
Multi-GNSS Support

Access multiple global navigation satellite systems (GPS, GLONASS and Galileo) to track in more challenging environments than GPS alone.
Yes
Yes
TOPO Maps

Preloaded Topographical (TOPO) maps allow you use TOPO maps with Trendline Popularity Routing to find the best routes and navigate your adventures effortlessly
Yes
Yes
Ski Maps

Preloaded Ski maps allow you view run names and difficulty ratings for 2,000 worldwide ski resorts.
Yes
Yes
Round-trip Routing
Enter a distance you want to travel, and get suggested routes that will bring you back to your starting point. Trendline™ popularity routing helps you find the best local paths.
Yes
Yes
Turn-by-turn Navigation

Follow a route or course with help from turn-by-turn directions, which let you know ahead of time when the next turn is coming.
Yes
Yes
ABC sensors

Navigate your next trail with ABC sensors, including an altimeter for elevation data, barometer to monitor weather and three-axis electronic compass
Yes
Yes
Running Features

Available run profiles include running, treadmill running, indoor track running, trail running
Yes, and more
Yes, and more
PACEPRO Technology

A first-of-its-kind PacePro feature helps keep you on pace with grade-adjusted guidance as you run a course.
Yes
Yes
Golf Courses

Access full-color CourseView maps for more than 41,000 golf courses around the world, and get button targeting and the PlaysLike Distance feature.
Yes
Yes
Swimming Features

Available swimming profiles; pool swimming, open water swimming, swimming/running.

Other features include; tracks metrics such as distance, pace, stroke count, stroke distance and SWOLF.
Yes
Yes
Underwater Wrist-based Heart Rate Tracking

Features underwater wrist-based heart rate tracking that helps you manage your swimming intensity.
Yes
Yes
Altimeter

Floors climbed
Yes
Yes
Garmin Fenix 6 vs 6 Pro: Battery Life
Fenix 6
Fenix 6 Pro
Smartwatch: Up to 14 days
GPS: Up to 36 hours
Max Battery GPS Mode: 72 hours
Expedition GPS Activity: 28 days
Battery Saver Watch Mode:48 days
Smartwatch: Up to 14 days
GPS: Up to 36 hours
GPS and Music: Up to 10 hours
Max Battery GPS Mode: 72 hours
Expedition GPS Activity: 28 days
Battery Saver Watch Mode: 48 days
What's the Difference?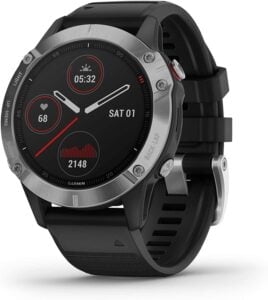 The Fenix 6 Pro comes with 32GB onboard storage capacity, as well as supports music streaming with select services such as Spotify, Amazon Music, and Deezer which the Fenix 6 lacks.
As a result of the 32GB storage capacity, the Fenix 6 Pro features topo maps, ski resort maps and road/trail maps. It also features Pacepro and trendline popularity routing.
The Fenix 6 Pro is equipped with Wi-Fi which isn't present in the Fenix 6. This supports music streaming, software updates, and downloading of workouts and training plans.
Fenix 6 Pro also features animated on-screen workouts which is not available on Fenix 6. Onscreen workouts will guide you through some of your favorite workouts, and this can save you money on subscription.
So, clearly, the Fenix 6 Pro is a better smartwatch than the Fenix 6. However, the Fenix 6 is a great choice if you're low on budget.