Over the past few months, generative AI has taken over the headlines on many news outlets with ChatGPT from OpenAi leading the pack. ChatGPT with its enormous computing power is making life easier by helping people find answers to some of the most complex questions in a twinkle of an eye. The good news is that ChatGPT is now available on the Wear OS platform, and in this post, I will show you how to get ChatGPT on your Galaxy Watch 5 and 4, and this will work for other Wear OS smartwatches running on Wear 3.5.
How to Get ChatGPT on Galaxy Watch 5
To get ChatGPT on the Galaxy Watch 5, you will need to download and install the WearGPT app from Google Playstore. WearGPT is a free app developed by Anuj Mutha, it leverages the power of ChatGPT via an API.
To use ChatGPT on your Galaxy Watch 5, you need internet to install the WearGPT app and you need an API key to get full access to the app. You also need to have an active Google Account on the watch to be able to download the app.
Step 1: Get your API secret key

Create your OpenAi secret key

The first thing you need to do is to get your API key. Simply visit OpenAi to get your secret API key. If you don't have an account already, you will need to create an account on OpenAi before you can get your API key. Once you have your secret API key, copy it and paste it into a text editor on your phone. Note that you can only view your secret API key once (so keep it safe).

Step 2: Enable Internet Access and install the WearGPT app

Next, you need to enable Internet access on your phone to install the WearGPT app on your Galaxy Watch. Alternatively, if you have a WiFi network at home, you can turn on the WiFi option on the watch.

Once you have access to the internet, open the Playstore app on your Galaxy Watch and use the search bar to search for WearGPT. You should see WearGPT in the list of apps. Tap on Install to add it to your watch.

Step 3: Setup WearGPT

Once you have installed the WearGPT app on your Galaxy Watch 5, launch the app and tap on the settings icon. Scroll down to locate API Key and tap on it. Since you can't paste the API key you created earlier, you will have to enter it one after the other (be patient because the secret key contains lots of characters).

Tap on the edit icon and enter the API key, once you're done, tap on the checkmark at the bottom of the screen. If the API key is correct, you should see Valid appear on the screen after a few seconds. That's it, you can now use ChatGPT to answer questions on the Galaxy Watch 4 and 5.

You might also want to customize the other settings like tokens, temperature, and more. Tap on the info tab to learn what each of the options does. In my case, I went with the default settings.

Using WearGPT on Galaxy Watch 4 and 5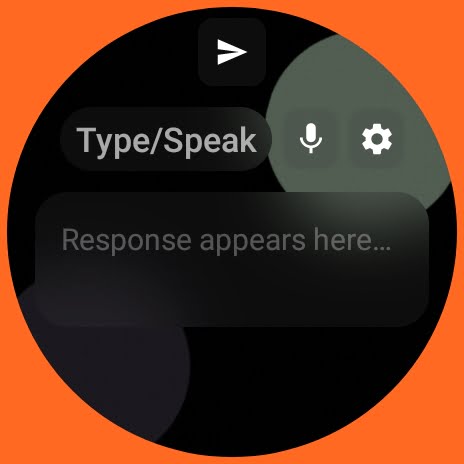 The WearGPT app has a very neat and easy-to-understand interface. When you launch the app, you can use your voice to ask questions or simply enter the question in the text box.

Simply tap on the microphone icon to ask a question using your voice. Alternatively, tap on the text box to type your question using the built-in keyboard. Then tap on the send icon to make the query. Note that you need internet access to use the WearGPT app. You can turn on your phone's cellular data or use it standalone by turning on WiFi on the Galaxy Watch 5.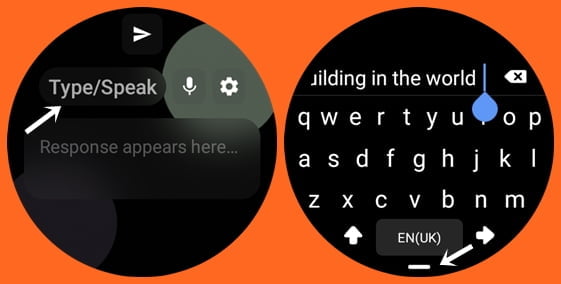 ChatGPT vs Google Assistant on Galaxy Watch 5
While the WearGPT app has a lot of similarities with Google Assistant, it's not a bad idea to have an alternative. Just like Google Assistant, WearGPT allows you to find answers to questions, and both apps need internet access to function.

However, Google Assistant can tell me what today's date is, but ChatGPT can't because its memory is limited to September 2021. Unless a more recent version with updated information. Microsoft found an answer to this by connecting the Generative AI to the internet in real-time.
Moreover, while I can use Google Assistant to set up an alarm, start a call, and start a workout, it's not possible with WearGPT. In other words, Google Assistant is a more comprehensive voice assistant for your Galaxy Watch 4/5 but it's a good idea to have an alternative.
Note that the instructions mentioned in this guide can also be applied to other Wear OS smartwatches like Google Pixel Watch and others running on Wear OS 3.5