Huawei Band 6 like every other wearable device from Huawei is a fitness-focused smartband, and one of the features that come with this stylish and compact smartband is the ability to monitor your stress levels. The Huawei Band 6 can monitor your stress levels 24/7 and it also has a breathing app that can guide you through a breathing session when you feel stressed. For the Huawei Band 6 to monitor your stress level, it must be enabled from the Huawei Health app. Once enabled, the smartband will monitor your stress level and as well show your stress levels overtime which you can see in more detail in the Huawei Health app. This guide will show you how to enable and measure your stress levels with the Huawei Band 6
Activate Stress Measurement on Hauwei Band 6
Step 1:

To enable stress monitoring on Huawei Band 6, first, open the Huawei Health app, tap on devices at the bottom of the app and select the Huawei Band 6 from the list of connected devices, this will take you to the device dashboard.

Step 2

Secondly, scroll down to where it says health monitoring and click on it.

Step 3

Find the Automatic stress test from the list and select it. Then toggle on Automatic stress test to allow the Huawei Band 6 to measure your stress level automatically 24/7. After you have enabled stress measurement, the system will guide you through a series of 12 questions. I think these questions are asked to help the algorithm know you better. So, answer these questions to the best of your abilities to setup stress monitoring for Huawei Band 6.

Step 4

Once you're done answering all the questions, click on okay to finish the process. Stress monitoring has been enabled for the Huawei Band 6. And you can always come to the app to view your stress level from the tracked metrics dashboard.

Step 5
Now that you've successfully setup automatic stress monitoring for the Huawei Band 6. The device will now monitor your stress levels 24/7 as long as you're wearing it. You can add stress monitoring to your favorite apps which can be easily accessed by either swiping left or right from the homescreen. To add the stress app to your favorite list, simply press the side button from the homescreen to go to the list of apps. Find and select the Settings app, then go to display>>favorites to add stress measurement to your favorites.
How to Reduce Stress with Huawei Band 6

If you're stressed, the Huawei Band 6 also has a breathing app that can help you reduce stress through a guided breathing session. To access the breathing app, simply press the side button from the homescreen to access the list of apps. Then scroll down to see the breathing app, click on it and customize how you prefer the sessions. You can adjust the duration and the pace. Once done, tap on the breathing app icon to start the breathing session.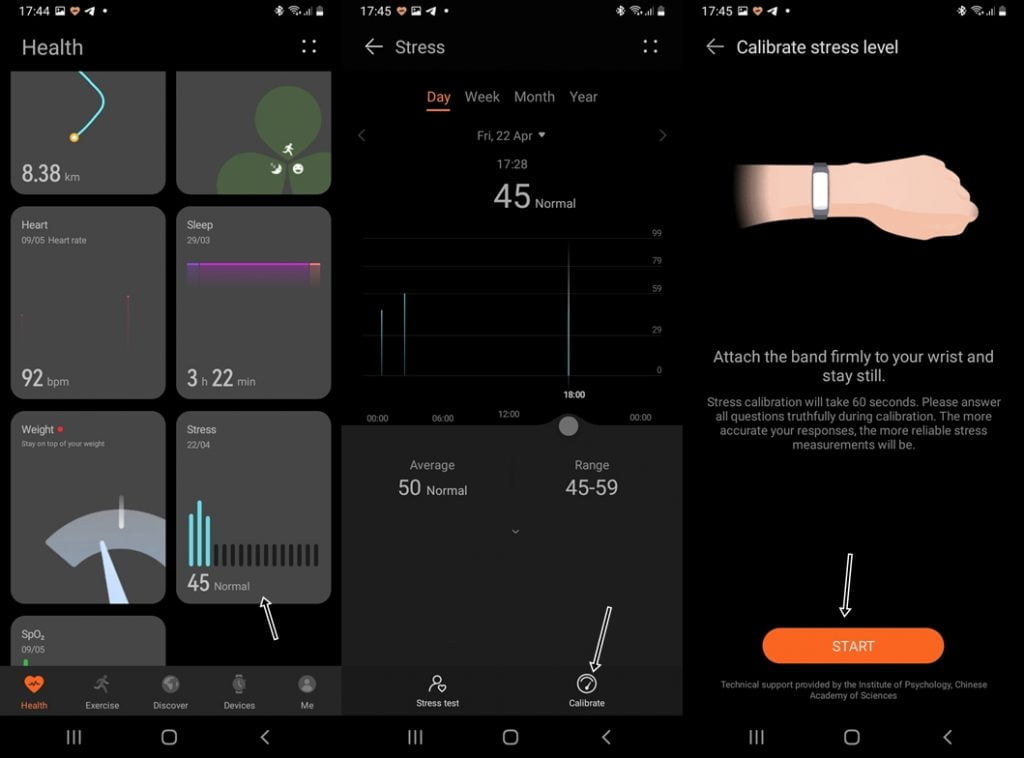 Overtime, you will need to calibrate the stress measurement feature and to do this, simply go to the Huawei Health app, find and select stress measurement from the list of tracked metrics, tap on calibrate and follow the system prompts to complete the process. This will allow the Huawei Band 6 to continue to measure your stress levels accurately.
That's it, this is how you can enable and measure stress levels with the Huawei Band 6.