Samsung Galaxy Watch Active 2 is one of the trending smartwatches. Though it was released last year, it is still one of the best smartwatches on the market. This watch succeeded the Galaxy Watch Active with some additional amazing features added to it. The digital rotating bezel is one of its fine features and its 1.4 inches (44mm) AMOLED display is also easy to read. I just received my Galaxy Watch Active 2 and I'll show you how to set it up to work properly with a compatible phone.
How to Setup Samsung Galaxy Watch Active 2
Step 1.

Download the Galaxy wearable app from the galaxy store, playstore or iOS store if you use an iPhone


Step 2.

Hold down the lower button to switch on the watch.

Step 3.

Click on get started from the Galaxy wearable app to start the pairing process. The app will request to connect to Active 2, click yes, and it'll start downloading the Galaxy Active 2 plugin which can take a while to complete.

Step 4.

Click to accept the code you received on both the watch and phone to pair your watch and your phone.

Step 5.

Click on agree, select all and click next to finish the pairing process.

Step 6.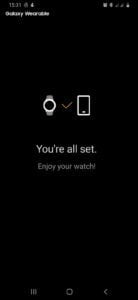 Congratulations! You are done setting up your Samsung Galaxy Watch Active two by pairing it with your watch.
Conclusion, Active 2 will now walk you through the basics of how to use the watch.