The Samsung Galaxy Watch is indeed one of the most refined watches you can buy. It looks like a traditional watch and very attractive on my wrist. I just got the 46mm and I'm going to show you how to set up this smartwatch to work with your compatible phone.
How to Setup Samsung Galaxy Watch
Step 1.

Download the Galaxy wearable app from play store, Galaxy store or iOS store if you use an Apple phone.

Step 2.

Press and hold down the home button (lower button) on the Galaxy watch for a couple of seconds to turn it on.

Step 3

Click on get started and the app will request to connect to your Galaxy watch, accept. The App will now download the Galaxy Watch plugin which can take some seconds depending on the speed of your internet connection.

Step 4.

Click on the code you received on your Galaxy watch to start the pairing process. The app will now download the Galaxy watch plugging to your phone.

Step 4.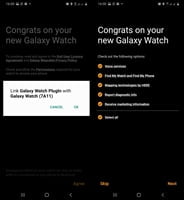 Tap on Agree and "Ok" to link the Galaxy Watch plugin with the Galaxy Watch, then select options and tap next to finish the pairing process.
Conclusion, the pairing process is now complete, the Galaxy Watch will now walk you through the basics on how to use the watch.