Garmin Fenix 7X Solar Specifications, Features and Price
$689.00
Release date:: January, 2022
Display:: 1.4 inches, Transflective (MIP) LCD
Body:: Silicone, Fiber-reinforced polymer
Battery Life:: 28 days
Storage:: 16GB ROM
Compatibility:: Android 7.0+ and iOS 13.0+
EDITOR'S RATING

| | |
| --- | --- |
| Design: | (4.8 / 5) |
| Battery: | (4.9 / 5) |
| Fitness tracking: | (4.7 / 5) |
| Features: | (4.4 / 5) |
| Price: | (3.5 / 5) |
| Average: | (4.5 / 5) |
Last updated on December 2, 2023 10:14 am
Compare
Description
Garmin Fenix 7X Solar Full Specifications, Features, Pros and Cons – The Fenix 7X Solar is a premium multisport GPS smartwatch that is fully equipped to track all the basics and advanced fitness features as well as equipped with a 32GB storage and a long battery life of up to 28 days. The Fenix 7 series consists of 8 different units, and the Fenix 7X model consists of Fenix 7X Solar and Fenix 7X Sapphire Solar while the Fenix 7 consists of Fenix 7 Standard, Fenix 7 Solar and Fenix 7 Sapphire Solar. The Fenix 7S consists of three units just like the Fenix 7. The new Fenix 7 series welcomes a touchscreen display, longer battery life, new sport profiles, HIIT workout and downloadable maps.
The difference between the Fenix 7X Solar and 7X Sapphire Solar is that the latter has a more durable titanium bezel, titanium rear cover, Sapphire glass and comes with preloaded topographical road/trail and ski resort maps. It also has a higher 32GB storage and supports multi-band GPS. Meanwhile, the 7X Solar has a stainless steel bezel, stainless steel rear cover, Corning Gorilla Glass DX, 16GB and comes with preloaded ski resort maps. You have the option to download additional maps right on the watch using the new map manager app with a working WiFi network.
Garmin Fenix 7X Models
The Fenix 7X comes in two models;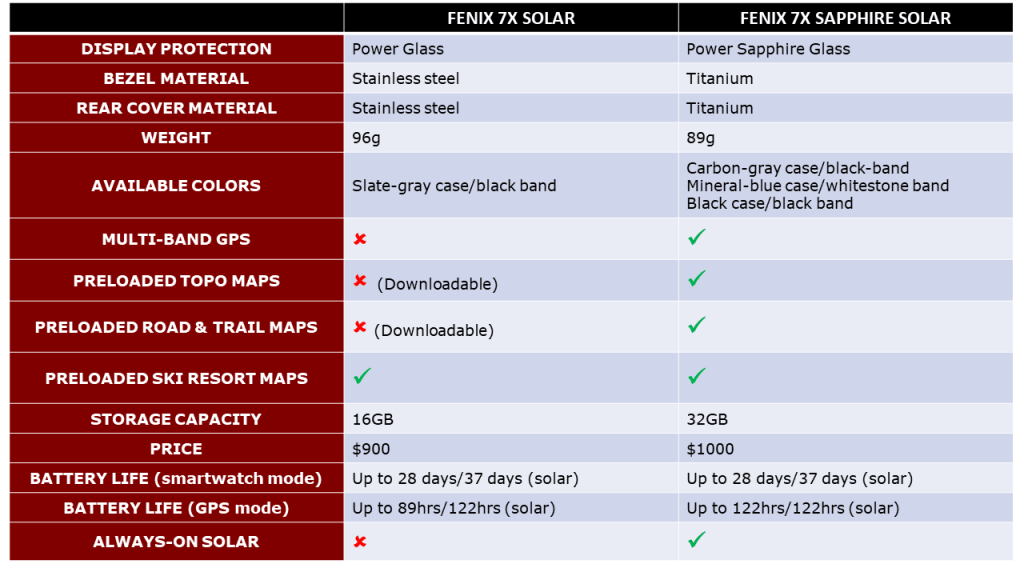 The Fenix 7S and Fenix 7 units come in three models. Only the Fenix 7X comes in two models; Fenix 7X Solar and Fenix 7X Sapphire Solar.
Features New to the Fenix 7 Series
Every model in the Fenix 7 series has a touch-sensitive display unlike their respective predecessor.
User interface has been revamped to a great extent.
Fenix 7X units feature a flashlight that suports SOS mode, strobe mode, and running white/red mode.
Although a limited version, the Garmin Connect app is now available on-wrist in all models.
Heart rate sensor have been optimized on all models.
Health Snapshot that lets you log a 2 minute session of your heart rate, heart rate variability, respiration, blood oxygen and stress is now available in all models. This feature has been added to the Fenix 6 series.
Free downloadable TopoActive maps is available in all models. Only Sapphire models come with preloaded Topo maps.
Free downloadable road/trail maps are also available. Only the Sapphire models come with preloaded road/trail maps.
Preloaded Ski and Golf maps are also available in all Fenix 7 series models. Moreover, SkiView now contain slope and resort names.
Added Cross Country Ski Trails to maps.
Added RealTime Stamina – A feature that is used during runs and rides.
Added the ability to configure activity profiles and data fields from your phone.
Added a new Sleep Manager Settings that lets you customize what the device does while you sleep.
Added automatic graphing for run/walk/stand during a workout.
There is now a map manager app that lets you manage and download maps directly from your wrist.
Added Race predictor in all the models.
Multi-band satellite positioning is available in only Sapphire Solar models.
Added more sport profiles such as kiteboard and windsurf.
HIIT has been added to the list of available gym activity profiles.
Each model in the Fenix 7 series has a longer battery life that its Fenix 6 series predecessor.
Always-on Solar is now available in Sapphire models.
Garmin Fenix 7X Solar Design
The Fenix 7X Solar is a durably built device, it has a case made of fiber-polymer with a stainless steel rear cover and stainless steel bezel. The display is protected by Power glass/Corning Gorilla Glass DX while the 26mm straps come in silicone.
The 7X units are the biggest in size in the Fenix 7 series just like its predecessor, Fenix 6X Pro. It comes in at 51 x 51 x 14.9mm which is bulky and also heavy at 96g. These attributes suggest a watch for men. There is a torchlight feature built-in on the Fenix 7X. The torchlight contains 3 LEDs colors that can serve to illuminate a small dark area. It also serves as a guild that tries to mimic your cadence as you run or walk.
Garmin Fenix 7X Solar Display
Transflective memory-in-pixel powers the 1.4 inches display of the Fenix 7X Sapphire Solar. The display is quite colorful at 280×280 pixels and 283 PPI. It's also easy to read outdoors. Navigation is easier with 5 physical buttons, touchscreen support, and a revamped interface. It's the first time the Fenix units will support touchscreen.
Garmin Fenix 7X Solar Activity Tracking Features
Each unit in the Fenix 7 series like Fenix 6 series is fully equipped with a heart rate sensor, Spo2, accelerometer, gyroscope, compass, barometric altimeter and a thermometer. These sensors enabled a long list of activity tracking features which includes all the basics such as tracking your heart rate, calories, sleep, stress, blood oxygen, respiratory rate and counting floors climbed.
Incidental fall detection is also available as well as the Health Snapshot feature that lets you log a short session of vital data such as heart rate, blood oxygen, respiratory rate and stress. Onscreen animated workout is also available.
A new HIIT workout has been added as well as new kiteboard and windsurfs sport profiles. While the Fenix 7X Sapphire Solar comes with preloaded topographical, road/trail and ski resort maps, the Fenix 7X Solar comes with only preloaded ski resort maps. Although, you can still download additional maps.
Garmin Fenix 7X Solar Media Storage
The 7X Solar comes with a 32GB storage capacity with Amazon Music, Deezer and Spotify supported. You can download your playlists from these services then pair a Bluetooth headphone to listen to music offline.
Garmin Fenix 7X Solar Battery Life
With the 7X Solar, you can get up to 28 days of battery life, and it's up to 37 days with solar charging.
Garmin Fenix 7X Solar Features
1.4 inches transflective memory-in-pixel (MIP) display, bright and easy to read outdoors. Touchscreen display with 5 physical buttons.
Clock features include time/date, GPS time sync, auto daylight saving, alarm, timer and stopwatch.
Download watch faces, widgets, data fields and apps from the Garmin Connect IQ Store.
Garmin Connect app now available on the watch. (NEW)
Features widget watch face that lets you add your favorite complications.
Calls reject/text response with preset texts (Android only). Also reply to notifications with preset replies.
Find my phone, watch, control music on smartphone and remote camera control.
Keeps you connected to all that matters to you, so you never get to miss important updates recieved on your phone.
Rated 10ATM (swim-proof).
26mm interchangeable straps with quick release feature.
Compatible with both Android 7.0+ and iOS 13.0+ devices.
Sync and upload data from watch to the Garmin Connect community – a thriving community of fitness enthusiasts where you can connect and share.
16GB onboard storage capacity with support for streaming services such as Spotify, Deezer and Amazon Music. You can also download playlists then listen via a Bluetooth headphone.
Garmin Fenix 7X Solar Activity Tracking Features
Safety and Tracking features include,

LiveTrack that lets you invite others to join in your training goals and group LiveTrack that lets you invite more people to join in your training activities. Others include incidental fall detection that enables the watch call a preset emergency contact (phone must be enarby), live event sharing that lets you share your training activities with members of the Garmin Connect community, plus Group LiveTrack and Assistance.

Tactical features include,

Dual-grid coordinates.

Activity Tracking features include ,

Steps counter, sleep monitoring, calories, floors climbed, distance traveled, intensity minutes, fitness age, TrueUp, Move IQ, and all-day stress tracking.

Gym and Fitness Equipment include ,

Cardio, strength. HIIT, and pilates workouts. Others include onscreen animated workouts and automatic rep counting. Available gym profiles are strength, HIIT, cardio and elliptical training, stair-stepping, floor climbing, indoor rowing, pilates and yoga.

Training, Planning, and Analysis features include ,

Downloadable training plans, respiration rate (during exercise), customizable activity profiles, VO2 max, activity history on watch, GPS speed and distance, create custom activity profiles and advanced workouts.

Others are training load, training status, training effect, improved recovery time, daily suggested workouts, Trendline™ Popularity Routing, auto and manual multisport activities, Garmin live segments, course guidance, custom alerts and more.

Heart Rate Tracking features includes,

HR zones, HR alerts, HR calories, % HR max, %HRR, HRV stress test, recovery time and HR broadcast data to paired device.

Running features include ,

GPS-based distance, time and pace, run workouts, foot pod capable, cadence (real-time steps/min), stride length, running dynamics, race predictor, performance condition and lactate threshold that analysis HR and pace to estimate when the muscles begin to fatigue and PacePro.

Available run profiles include running, track running, treadmill running, indoor track running, trail running, virtual running and ultra running.

Golfing features includes,

Yardage to layups, yardage to front/middle/back, measures short distance, digital scorecard, custom targets, full vector map, auto courseview updates, hazards and course targets, pinpointer, playslike distance, touch-targeting, handicap scoring, Truswing compatible, round timer, tournament legal and preloaded with 42000 courses worldwide.

Outdoor recreational features includes,

Point-to-point navigation, bread crumb trail in real-time, back to start, TracBack, UltraTrac mode, around me mode, up ahead, elevation profile, distance to destination, barometric trend indicator with storm alert, ClimbPro ascent planner, total descent/ascent, future elevation plot, preloaded ski resort maps and more.

Available outdoor recreational profiles include hiking, indoor climbing, bouldering, climbing, mountain biking, skiing, snowboarding, xc skiing, stand-up paddleboarding, rowing, kayaking, surfing, hunting, jumpmaster, tactical, kiteboard, windsurf and snowshoe.

Cycling features include ,

time/distance alerts, courses, cycle map (routable), MTB grit and flow, bike lap and lap max. power, race an activity, functional threshold power, compatible with Vector™, power meter compatible, advanced vector support, compatible with Varia Vision™, compatible with Varia™ Radar, compatible with Varia™ Lights and supports speed and cadence sensor.

Available cycling profiles include biking, indoor biking, mountain biking and triathlon.

Swim tracking features includes,

Drill logging (pool swim only), basic rest timer (pool swim only), auto rest (pool swim only), time/distance alerts, pacing alerts (pool swim only), countdown start (pool swim only), pool swim workouts, critical swim speed and underwater wrist-based heart rate.

Open-water swim metrics include distance, pace, stroke count/rate, stroke distance, swim efficiency (SWOLF) and calories.

Pool swim metrics include lengths, distance, pace, stroke count, swim efficiency (SWOLF) and calories.

Stroke type detection includes freestyle, backstroke, breaststroke and butterfly (pool swim only). Available swim profiles include pool swimming, open water swimming and swimming/running.
Pros
Premium design, rugged, compact and stylish design.
Up to 28 days long battery life.
A comprehensive activity tracker.
Rated (10ATM) Swim-proof.
Multisport GPS smartwatch with preloaded and downloadable maps.
Make payment on the go with Garmin Pay.
16GB onboard music storage.
Cons
Lacks microphone and loudspeaker.
Quite expensive.
Quite heavy, bulky and thick.
Garmin Fenix 7 Review
Full Specifications
| | |
| --- | --- |
| ABOUT DEVICE | ABOUT DEVICE |
| Device name | Garmin Fenix 7X Solar |
| Device type | |
| Gender | |
| Release date | January, 2022 |
| Predecessor | Garmin Fenix 6X Pro |
| Successor | — |
| Versions | Fenix 7X Sapphire Solar, Fenix 7X Solar |
| BODY | BODY |
| Dimension | 51 x 51 x 14.9 mm |
| Weight | 96g |
| Shape | Circular |
| Case material | Fiber-reinforced polymer with stainless steel back |
| Strap material | Silicone |
| Bezel material | Stainless steel |
| Strap size | 26 mm |
| Screen protection | |
| Water resistance | |
| Durability test | MIL-STD-810G |
| Swim-proof | Yes, recommended |
| Color | Slate-gray case/black band (Solar) |
| DISPLAY | DISPLAY |
| Display size | 1.4 inches |
| Display type | LCD, Memory-in-pixel (MIP), transflective |
| Display resolution | 280 x 280 px |
| Pixel density | 283 PPI |
| Always on | Yes |
| Custom watch face | Yes |
| Input type | 5 Physical buttons, Touchscreen |
| CONNECTIVITY | CONNECTIVITY |
| Bluetooth | ANT+, Bluetooth |
| Bluetooth calling | No |
| GPS | Galileo, GLONASS, GPS |
| NFC | Yes |
| Wi-Fi | Yes |
| MEMORY | MEMORY |
| RAM | — |
| ROM | 16GB |
| Memory card slot | |
| CELLULAR CONNECTIVITY | CELLULAR CONNECTIVITY |
| Technology | None |
| SIM type | |
| Band | — |
| NOTIFICATIONS | NOTIFICATIONS |
| SMS alert | Yes |
| Calls alert | Yes |
| Email alert | Yes |
| Event reminder | Yes |
| Third-party apps alert | Yes |
| MEDIA | MEDIA |
| Audio | |
| Bluetooth music | |
| Music streaming | Yes |
| Loudspeaker | |
| Microphone | |
| Camera | No |
| Radio | No |
| SENSORS | SENSORS |
| Accelerometer | |
| Altimeter | Yes |
| Ambient light | — |
| Barometer | |
| Compass | Yes |
| ECG | |
| Gyroscope | Yes |
| HRM | Yes |
| Pulse oximeter (SpO2) | Yes |
| Temperature | Yes |
| Sensor(s) | — |
| ACTIVITY TRACKING | ACTIVITY TRACKING |
| Blood oxygen | |
| Blood Pressure | |
| Calories | Yes |
| Distance | Yes |
| ECG tracking | |
| Heart rate monitoring | Yes |
| Sleep tracking | Yes |
| Steps | Yes |
| Floors climbed | |
| Stress | Yes |
| Fall detection | |
| Menstrual cycle | |
| VO2 Max | Yes |
| Swim-tracking | Yes |
| Underwater heart rate tracking | Yes |
| On-screen workout | Yes |
| Sport modes | Yes |
| BATTERY | BATTERY |
| Battery type | non-removable Lithium-polymer |
| Battery capacity | — |
| Battery life | Battery saver mode: Up to 90 days (1yr+ with solar), GPS only mode: Up to 89hrs (122hrs with solar), Smartwatch mode: Up to 28 days (37 days with solar) |
| Charging type | Charging dock |
| Charging time | 1-2 hours |
| Solar charging | Yes |
| PLATFORM | PLATFORM |
| Chipset | — |
| CPU | — |
| GPU | — |
| Operating system | Proprietary OS |
| MISC | MISC |
| Companion app | Garmin Connect |
| Compatibility | Android 7.0+, iOS 13.0+ |
| Payment system | Garmin Pay |
| Interchangeable strap | |
| Voice command | |
| Find my phone | Yes |
| Box content | Charger, Garmin Fenix 7X Solar, Manual, Straps |