The Versa 3 was released alongside the Fitbit Sense in September 2020. The difference between these two is that the Sense is a more advanced tracker featuring ECG and an EDA stress app. I received the Versa 3 two months after it was released and I have been using it ever since then. There hasn't been a successor since 2020, perhaps Fitbit will finally drop a successor in 2022. Until then, I'll like to tell you that from my experiences and tests, the Versa 3 is a fine smartwatch that is fitness-centered and has a long battery. Although, there are a few things I don't like. This is a detailed review of the Versa 3 that talks about all the features you can get from this smartwatch, my likes, dislike, and if it's worth investing in 2022.
Prefer video, you can watch a detailed review of the Fitbit Versa 3

Fitbit Versa 3 Detailed Review
Fitbit App is the companion of the Versa 3
The Fitbit app is the companion app for Versa 3 and other Fitbit trackers. The app lets you setup and manages how the watch functions. From the app, you can view detailed information of tracked data like your sleep, routes, locations, calories, heart rate, and more. It's also from the app that you will be able to install watch faces and apps on the watch.
The Fitbit app is a highly rated app, perhaps one of the best fitness apps. It's available on both Google Playstore and Apple app stores. So, when you receive your Versa 3, go ahead and install the app so that you can setup the watch. One thing I really like about the app is that it has a very neat interface that's easy to use even for a beginner.
Design – A compact and very lightweight smartwatch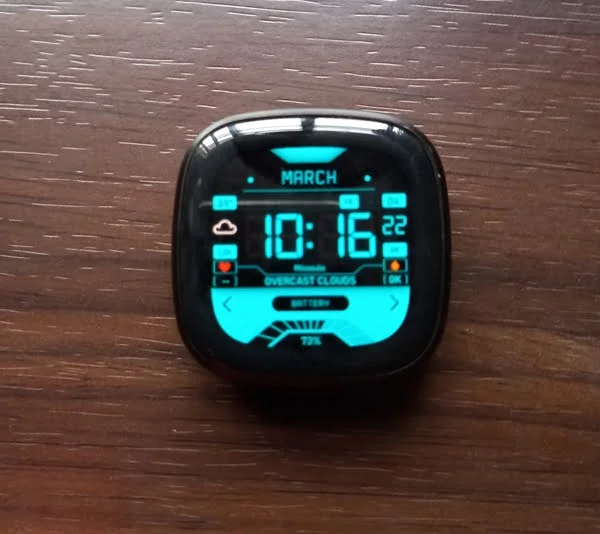 The Versa 3 with a 40.4 x 40.4 x 12.4mm dimension is a very compact and lightweight smartwatch. It's so light that oftentimes I forget I'm wearing it. I never had any form of discomfort wearing it to sleep. The best way to wear it is to leave some space, not too tight as this will trap sweat in-between which will irritate the skin.
Its little weight can be attributed to the aluminum case while the straps are made of silicone. The straps are interchangeable, you can always change them if you wish. Meanwhile, Corning Gorilla Glass 3 protects the display of the device. It's obviously a durable device. I haven't had any problems or had to change the straps after 18 months of use.
The Versa 3 is available in three colors; black, midnight blue and pink. I have the black one. And it's rated 5ATM which means it's waterproof up to 50 meters. I have won this to the shower, under the rain and even to the pool and it worked fine afterward.
Navigation of the watch is via a haptic button which I'm not really a fan of, I preferred the physical button on the Versa 2. Nevertheless, the haptic button lets you wake the device and will also take you to your favorite apps when you double press. You can also configure the haptic button to open any app of your choice when you long-press it. All these can be configured by going to settings>>shortcuts. In addition to the haptic button is touchscreen support.
How to Use Fitbit Versa 3
The Versa 3 has a simple interface that is very easy to use.
When you swipe left, you get to see all apps installed on the watch.
When you swipe down, you get access to the notification section where all messages will show up.
When you swipe right, you get to see the quick panel section which contains brightness settings, always-on, do not disturb and other settings.
When you double press the haptic button, it shows you all your favorite apps. This can be configured from settings>>shortcuts and you can add a maximum of 4 apps.
When you swipe up, you get to see all your stats such as sleep, heart rate, calories, hourly activity, hydration, start an exercise and more.
And to go back to a previous menu, simply swipe right on the display. This is probably one of my favorite features on the Versa 3 unlike the Versa 2 where you have to press the side button to go to a previous menu.
Display – AMOLED powered display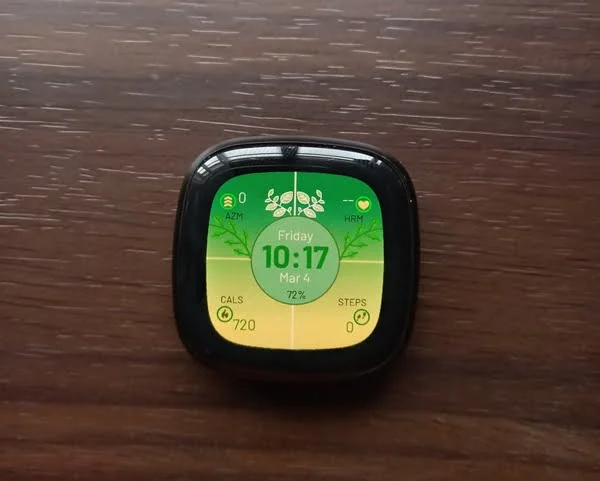 AMOLED powers the 1.58 inches display of both Versa 3 and Sense. It's rich in color and easy to read even on a very sunny day. It has a 300×300 pixels resolution and 268 PPI. So, it isn't so colorful when compared to the Galaxy Watch 4 and Apple Watch Series 7. Nonetheless, it still gives a satisfying viewing experience.
The Versa 3 supports an always-on display, although this can have a greater impact on the battery life. You can also alter brightness and screen awake time by going to settings>>display.
Watch Faces – There are lots of watch faces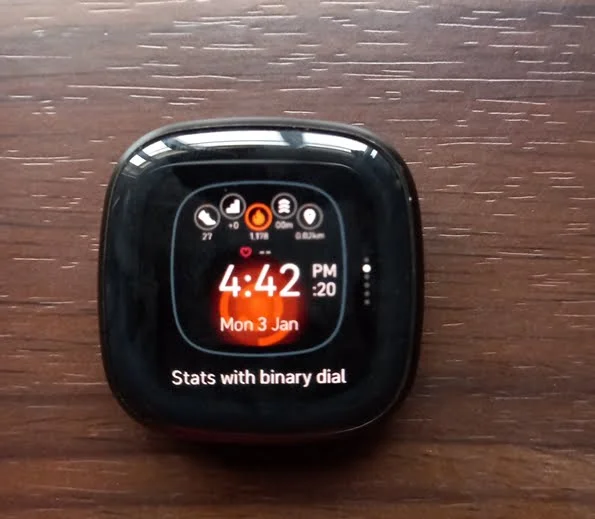 You can store a maximum of 5 watch faces at a time on the Versa 3. And you can now change the watch face directly on the device, thanks to a later update. To change the watch face simply press and hold on the homescreen to highlight the current watch face, then scroll to select a new one from the available watch faces. You can also change the watch face by swiping to the clock app on the device.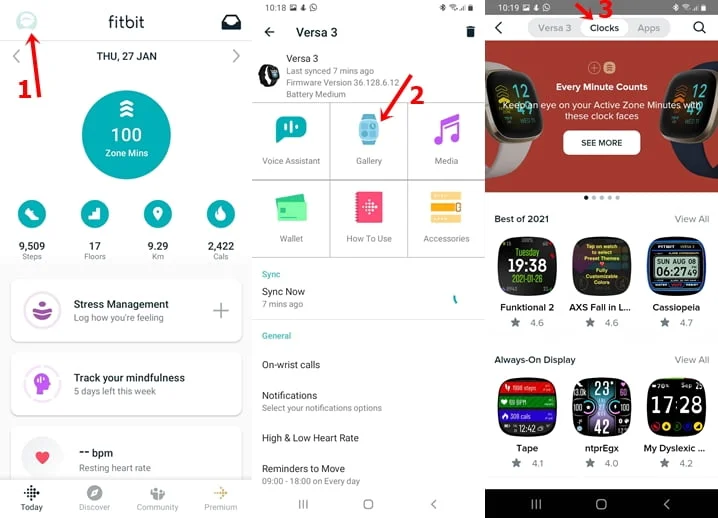 Even more, you can change, delete and download more watch faces from the Fitbit app. Open the app, tap on the profile icon at the top left, find your Versa 3 from the list, and tap on it. This will take you to the device's dashboard. Find Gallery and tap on it, from here you can manage watch faces on the Versa 3. Note that many of these watch faces are premium and will require payment.
Installing and Deleting Apps on Fitbit Versa 3
You can also delete and install apps on Versa 3. This can only be done from the Fitbit app. So, open the app, tap on the profile icon at the top left corner, and select Versa 3 from the list. This takes you to the device's dashboard. Click on gallery and tap on apps to manage and install new apps to the watch.
You will need internet connectivity on your phone to install watch faces or apps on the device.
Fitness Tracking – A consistent fitness tracker
Just like other Fitbit wearables, the Versa 3 is fitness-focused and is loaded with lots of health tracking features. It's equipped with an accelerometer, gyroscope, altimeter and heart rate sensors. These sensors enable a long list of health tracking features.
Steps and calories counting

The Versa 3 will count your steps 24/7 as long as you wearing it. It will also count calories burnt during the day and while sleeping. I compared its steps counting accuracy to that of the Galaxy Watch 4 Classic and Band 4 Pro, and it was quite consistent. Although, oftentimes, it was way off the mark. I noticed that when the watch was too tight on my wrist, it wasn't consistent in counting my steps. So, it's best it's not too tight and a few centimeters after your ankle to get the best possible readings.

Sleep Tracking

Band 4 Pro vs Galaxy Watch 4 Classic vs Fitbit Versa 3 – Sleep Tracking

Like many other smartwatches out there, the Versa 3 will also track your sleep in four stages. It will track your sleep in awake, deep, REM and light stages of your sleep. It will give a sleep score and show your blood oxygen variation. Other sleep tracking features like snoring, restlessness and sleeping heart rate are locked. You need to subscribe to Fitbit Premium to see these stats.

I have won the Versa 3 so many times to sleep than I can remember. In many of these cases, I also wore other smartwatches like the Galaxy Watch 3 and Huawei Band 4 Pro to compare the sleep tracking accuracy of the Versa 3. My results showed that Versa 3 is a consistent sleep tracker.

After wearing the Versa 3 to sleep, you can view sleep duration directly from the watch by swiping up. Although, this can take about an hour to show up on the device after you wake up. To view detailed stats of your sleep, go to the Fitbit app.

Heart Rate Tracking

The Versa 3 is also a decent heart rate tracker. It tracks your heart rate 24/7 to estimate the total number of calories burnt. It will show your resting heart rate throughout the day and over time. And it will alert you when your heart rate is too low or high.

This is automatically set, but you can configure it manually by going to the Fitbit app, tap on the profile icon and find Activity & Wellness>>heart settings>>high & low heart rate, then toggle on custom to get alerted when your heart rate gets too high or low.

When compared to the Galaxy Watch 4 and a manual heart rate monitor, the Versa 3 was consistent in tracking my heart rate.

Active Zone Minutes (AZM)

Active Zone Minutes is Fitbit's way of awarding points for every minute your heart rate spends in a heart-pumping activity. When your heart rate spends 1 minute in the fat burn zone, you will earn 1AZM and when your heart rate spends 1 minute in the cardio or peak zone, you earn 2AZM. These zones are automatically calculated based on your age. So, you can reach the fat burn zone with mild activities like walking and jogging. While you can attain the cardio and peak zones with high-intensity activity like running, jogging and HIIT workouts.

The aim is simply to help you stay active. You need to attain up to 150 AZM weekly to reach the WHO recommended physical activity.

Blood Oxygen Measurements

Spo2 watch face on Fitbit Versa 3

There is a blood oxygen measurement feature on Versa 3. However, you don't get this feature on-demand. You only get to see your blood oxygen levels when you wear the watch to sleep. And you must download and have a Spo2 watch face active on the watch to see your Spo2 level. Even more, is that this feature isn't available in every country of the world. This is very awkward especially when far cheaper smartbands like the Honor Band 6 have this feature on-demand.

So, to get your Spo2 level with the Versa 3, go to the Fitbit app>>gallery to download the Spo2 watch face.
Well, hopefully, Fitbit gets to correct this abnormality to conform with other smartwatches like Samsung galaxy watches and Apple Watch Series 7.

Outdoor Activity Tracking

Unlike the Versa 2, the Versa 3 has an inbuilt GPS. What this means is that you don't need to carry your phone along when you go for outdoor activities like hiking, running, or any other outdoor activity. It will track your routes, locations and pace and with the built-in altimeter, it will track your elevation level.

Band 4 Pro vs Galaxy Watch 4 Classic vs Fitbit Versa 3 – Outdoor Running

I compared the outdoor tracking accuracy of the Versa 3 against the Galaxy Watch 4 Classic and Huawei Band 4 Pro, and it was very consistent over time.

Preloaded Sport Modes

Fitbit Versa 3 sport modes

There are 21 preloaded sport modes on the Versa 3 which include running, walking, elliptical, yoga, treadmill, tennis, swim, stair climber, pilates and more. To start any workout, just swipe left from the homescreen to see apps, find the exercise app and select the workout you wish to start. My favorites remain running and Pilates.

Other Fitness Tracking Features

Other health tracking features of the Versa 3 include menstrual cycle tracking for women. There is also the hydration and food tracker that lets you log your water and food intake. Although, the Versa 3 unlike Sense lacks a stress tracker, but if you feel stressed, it has a breathing app that guides you through a breathing session that can help you reduce stress.

Media and Music Storage

The Versa 3 comes with a 4GB storage capacity that lets you store your personal music on the watch. Unfortunately, you can't add your personal music like you would on the Versa 2. Fitbit removed that feature on Versa 3 and Sense.

You can only add music to the watch with Spotify, Deezer or Pandora apps. These services might require a premium account for you to be able to download music to the Versa 3 which you can listen to offline.

The Versa 3 also has a microphone and loudspeaker, however, to enjoy music on the device, you will need to connect a Bluetooth headphone. This can be done by going to settings>>vibration & audio>>Bluetooth to connect your headphone.

Making and Receiving Calls on Fitbit Versa 3

Incoming call on Fitbit Versa 3

As a result of the presence of a microphone and a loudspeaker on the Versa 3, you can make and receive calls directly from the watch when your phone is nearby. Well, for now, there is no official way to start a call on the Versa 3. However, you can conveniently receive a call on the watch. The only way to start a call on the Versa 3 is via Google Assistant. That was the only way I could start a call on the watch with my voice.

The call quality isn't bad, I could clearly hear the person on the other end. Again, you need a Bluetooth headphone connected to get the best experience.

You will need to enable on-wrist calls to be able to make and receive calls on the Versa 3. Go to the device's dashboard, find on-wrist calls in the list and follow the system prompts to set it up.

Voice Assistants on Fitbit Versa 3

Using Google Assistant on Fitbit Versa 3

Amazon Alexa was introduced to the Versa 2, subsequently, Google Assistant was added to the Sense and Versa 3 which makes it two voice assistants on one device. However, you can only have one voice assistant active at a time.

To activate any of these voice assistants, simply open the Fitbit app, tap on the profile icon at the top left corner, find the Versa 3 and select it to go to the device's dashboard. You should see voice assistant at the top, select it and follow the system prompts to setup any voice assistant of your choice.

Out of the two voice assistants, I have had a better experience with Google Assistant. You will get a voice reply which I really found very helpful. Moreover, I could search for virtually anything online right from the watch and I would get a reply as long as my phone is nearby and connected to the internet.

Managing Notifications and Fitbit Pay

With the Versa 3, you will also be able to manage notifications received on your phone. You will need to enable this from the Fitbit app. Go to the device's dashboard, scroll down and select Notifications to activate this feature.

You have options to reply to messages with your voice, emoji and preset quick replies. Reply functions only work for apps like WhatsApp and Gmail. You can't reply to Facebook and Yahoomail messages received on Versa 3.

There's an NFC in the Versa 3 that enables Fitbit Pay. With Fitbit Pay on the watch, you can make non-contactless payments without your debit or credit card.

Battery Life – Up to 6 days battery life

One fine feature of the Versa 3 is its long battery life that lets you go multiple days from a single charge. On average even with always-on display active, I get about 5 days of battery life. If you are tracking your outdoor activities with the built-in GPS, you will get lower battery life. Although, I have not been able to confirm exactly how long the battery will last with continuous GPS tracking.

How to charge Fitbit Versa 3

It comes with a magnetic charging dock. You simply need to align the extending cord of the charger to be in opposite direction to the haptic button to charge the Versa 3. And it takes less than an hour to fully charge the device when it's completely depleted.

Fitbit Versa 3 vs Sense

Versa 3 and Sense are the same in almost every aspect except for slight differences. Both have the same design, battery life, storage and features. However, the Sense has a stainless steel bezel and features ECG tracking and an EDA stress app that lets you measure your stress level. Beyond these, the two are the same. In other words, the Sense is a more advanced fitness tracker than the Versa 3.

Pros

Lightweight and compact design.
A consistent and accurate activity tracker.
A very easy to use user interface.
Performance is at best awesome.

Cons

You can only store up to 5 watch face on device.
You can't add your personal music.
You can't download music from Spotify, you can only stream.
SpO2 feature is not on-demand, and there is no stress measurement.
The straps hook is cheaply built, prone to damage.
No official way to start a call on device.

Verdict

After using the Versa 3 for over 18 months, I can confidently tell you it's a fantastic smartwatch. It has a very compact and lightweight design, although not the most stylish out there. It's also a consistent fitness tracker when compared to other devices. And it has a decent battery life that lets you go days from a single charge.

I'm disappointed with the Spo2 tracking feature which is not on-demand. I'm also disappointed that you can't add your personal music and the fact that it can't monitor stress. It would be nice if I can have more watch faces on the device, and can start a call from the watch.

Nevertheless, the Versa 3 is still one of my favorite smartwatches. It's no doubt a decent wear for anyone looking for a modern watch.

Fitbit Versa 3 Full Specifications

 
 
Product Info

Fitbit Versa 3 Full Specifications, Features and Price

Price

$

164.00
ABOUT DEVICE
ABOUT DEVICE
Device name
Fitbit Versa 3
Device type
Fitness/Sport smartwatch
Gender
Unisex
Release date
September, 2020
Predecessor
Fitbit Versa 2
Successor
Fitbit Versa 4
Versions
—
BODY
BODY
Dimension
40.4 x 40.4 x 12.4 mm
Weight
—
Shape
Square
Case material
Aluminum
Strap material
Polyester, Silicone
Bezel material
Aluminum
Strap size
140 – 180mm (small), 180 -220mm (big)
Interchangeable strap
Yes
Screen protection
Corning Gorilla Glass 3
Water resistance
Yes, 5ATM
Durability test
—
Swim-proof
Yes, recommended
Color
Black/black, Midnight blue/gold, Pink/Gold
DISPLAY
DISPLAY
Display size
1.58 inches
Display type
AMOLED
Display resolution
300 x 300 pixels
Pixel density
268.5 PPI
Always on
Yes
Custom watch face
Yes
Input type
1 Haptic button, Touchscreen
CONNECTIVITY
CONNECTIVITY
Bluetooth
Bluetooth v5.0
Bluetooth calling
Yes
GPS
GLONASS, GPS
NFC
Yes
Wi-Fi
Yes
MEMORY
MEMORY
RAM
—
ROM
4GB
Memory card slot
No
CELLULAR CONNECTIVITY
CELLULAR CONNECTIVITY
Technology
None
SIM type
None
Band
—
NOTIFICATIONS
NOTIFICATIONS
SMS alert
Yes
Calls alert
Yes
Email alert
Yes
Event reminder
Yes
Third-party apps alert
Yes
Reply to Notifications
-
MEDIA
MEDIA
Audio
mp3/mp4
Bluetooth music
Yes
Loudspeaker
Yes
Microphone
Yes
Camera
No
Radio
No
SENSORS
SENSORS
Sensor(s)
Vibration motor
ACTIVITY TRACKING
ACTIVITY TRACKING
Blood oxygen
Yes
Blood Pressure
No
Calories
Yes
Distance
Yes
ECG tracking
No
Heart rate monitoring
Yes
Sleep tracking
Yes
Steps
Yes
Floors climbed
-
Stress
Yes
Fall detection
No
Menstrual cycle
Yes
VO2 Max
Yes
Swim-tracking
Yes
Underwater heart rate tracking
No
On-screen workout
Yes
Sport modes
20+
BATTERY
BATTERY
Battery type
non-removable Lithium-polymer
Battery capacity
—
Battery life
Regular: 6 Days+
Charging type
USB charging
Charging time
30min-1hr
Solar charging
No
PLATFORM
PLATFORM
Chipset
—
CPU
—
GPU
—
Operating system
Fitbit OS
MISC
MISC
Companion app
Fitbit App
Compatibility
Android OS 8.0+, iOS 14.0+
Payment system
Fitbit Pay
Voice command
Yes, Alexa, Yes, Google Assistant
Find my phone
Yes
Box content
Charger, Fitbit Versa 3, Manual, Straps

Fitbit Versa 3 Prices