In this article we'll be comparing two outstanding smartwatches, the Fitbit Versa 3 vs Garmin Vivoactive 4 – which is a better smartwatch? We will compare the design, fitness tracking features, battery life, and more of these two to find out the differences. Recall that Versa 3 which was released alongside a more advanced Fitbit Sense, and succeeds Versa 2 comes with an inbuilt GPS (long overdue), loudspeaker, music storage, and longer battery life. On the other hand, Vivoactive 4 which was released in 2019 is one the most advanced Garmin smartwatches which also has an inbuilt GPS, music storage, long battery life, and many more features. The similarity between these two is that both are equipped to track your daily activities to help you stay fit and reach more fitness goals.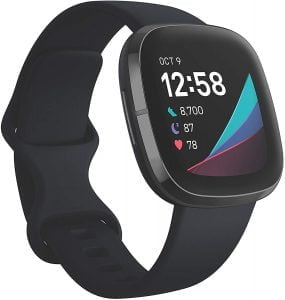 Fitbit Versa 3 vs Garmin Vivoactive 4: Specifications Compared
 
 
Product Info

Fitbit Versa 3 Full Specifications, Features and Price

Garmin Vivoactive 4 Specifications, Features and Price

Price

$

79.95

$

159.00
ABOUT DEVICE
ABOUT DEVICE
ABOUT DEVICE
Device name
Fitbit Versa 3
Garmin Vivoactive 4
Device type
Fitness/Sport smartwatch
Fitness/Sport smartwatch
Gender
Unisex
Unisex
Release date
September, 2020
September, 2019
Predecessor
Fitbit Versa 2
Garmin Vivoactive 3
Successor
Fitbit Versa 4
—
Versions
—
Captain Marvel, First Avengers, Vivoactive 4, Vivoactive 4S
BODY
BODY
BODY
Dimension
40.4 x 40.4 x 12.4 mm
45.1 x 45.1 x 12.8 mm
Weight
—
50.5 grams
Shape
Square
Circular
Case material
Aluminum
Fiber-reinforced polymer
Strap material
Polyester, Silicone
Silicone
Bezel material
Aluminum
Stainless steel
Strap size
140 – 180mm (small), 180 -220mm (big)
22 mm
Interchangeable strap
Yes
22 mm, Yes
Screen protection
Corning Gorilla Glass 3
Corning Gorilla Glass 3
Water resistance
Yes, 5ATM
Yes, 5ATM
Durability test
—
—
Swim-proof
Yes, recommended
Yes, recommended
Color
Black/black, Midnight blue/gold, Pink/Gold
Black, Silver
DISPLAY
DISPLAY
DISPLAY
Display size
1.58 inches
1.3 inches
Display type
AMOLED
LCD, Memory-in-pixel (MIP), transflective
Display resolution
300 x 300 pixels
260 x 260 px
Pixel density
268.5 PPI
—
Always on
Yes
Yes
Custom watch face
Yes
Yes
Input type
1 Haptic button, Touchscreen
2 Physical buttons, Touchscreen
CONNECTIVITY
CONNECTIVITY
CONNECTIVITY
Bluetooth
Bluetooth v5.0
ANT+, Bluetooth v4.0
Bluetooth calling
Yes
No
GPS
GLONASS, GPS
Galileo, GLONASS, GPS
NFC
Yes
Yes
Wi-Fi
Yes
Yes
MEMORY
MEMORY
MEMORY
RAM
—
—
ROM
4GB
4GB
Memory card slot
No
No
CELLULAR CONNECTIVITY
CELLULAR CONNECTIVITY
CELLULAR CONNECTIVITY
Technology
None
None
SIM type
None
None
Band
—
—
NOTIFICATIONS
NOTIFICATIONS
NOTIFICATIONS
SMS alert
Yes
Yes
Calls alert
Yes
Yes
Email alert
Yes
Yes
Event reminder
Yes
Yes
Third-party apps alert
Yes
Yes
Reply to Notifications
-
-
MEDIA
MEDIA
MEDIA
Audio
mp3/mp4
mp3/mp4
Bluetooth music
Yes
Yes
Loudspeaker
Yes
No
Microphone
Yes
No
Camera
No
No
Radio
No
No
SENSORS
SENSORS
SENSORS
Sensor(s)
Vibration motor
—
ACTIVITY TRACKING
ACTIVITY TRACKING
ACTIVITY TRACKING
Blood oxygen
Yes
Yes
Blood Pressure
No
No
Calories
Yes
Yes
Distance
Yes
Yes
ECG tracking
No
No
Heart rate monitoring
Yes
Yes
Sleep tracking
Yes
Yes
Steps
Yes
Yes
Floors climbed
-
Yes
Stress
Yes
Yes
Fall detection
No
Yes
Menstrual cycle
Yes
Yes
VO2 Max
Yes
Yes
Swim-tracking
Yes
Yes
Underwater heart rate tracking
No
Yes
On-screen workout
Yes
Yes
Sport modes
20+
20
BATTERY
BATTERY
BATTERY
Battery type
non-removable Lithium-polymer
non-removable Lithium-polymer
Battery capacity
—
—
Battery life
Regular: 6 Days+
GPS with music: up to 6hrs, Smartwatch mode: up to 8 days
Charging type
USB charging
Charging dock
Charging time
30min-1hr
1-2 hours
Solar charging
No
No
PLATFORM
PLATFORM
PLATFORM
Chipset
—
—
CPU
—
—
GPU
—
—
Operating system
Fitbit OS
Proprietary OS
MISC
MISC
MISC
Companion app
Fitbit App
Garmin Connect
Compatibility
Android OS 8.0+, iOS 14.0+
Android 5.0+, iOS 11.0+
Payment system
Fitbit Pay
Garmin Pay
Voice command
Yes, Alexa, Yes, Google Assistant
No
Find my phone
Yes
Yes
Box content
Charger, Fitbit Versa 3, Manual, Straps
Charger, Garmin Vivoactive 4, Manual, Straps
SEE ALSO

Fitbit Versa 3 vs Garmin Vivoactive 4 – Features Comparison
DESIGN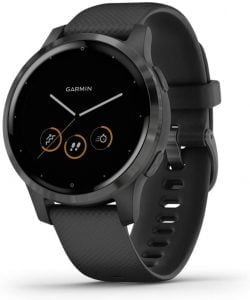 The first difference you spot between these two as far as design is concerned is the difference in appearance. While Versa 3 has a square shape which is custom for Fitbit smartwatches, Vivoactive 4 has a circular shape which leaves it with a classic watch design.
Both are sturdily built, but with different materials. Aluminum material has been used for both the case and bezel of Versa 3, while Vivoactive 4 has a case made of reinforced fiber-polymer material paired with a stainless steel bezel which I'd say makes it more attractive than Versa 3. I prefer the two physical buttons on Vivoactive 4 to the haptic button of Versa 3, both also have touchscreen support which no doubt makes interacting with any of these two easy.
The screen of both smartwatches has Corning Gorilla Glass 3 protection, and as well-rated 5ATM – this means 50-meter waterproof rating. So it's safe to wear any of these two while swimming. The strap for both smartwatches is made of silicone material, both are swappable, so you can always change with a compatible size.
Vivoactive 4 comes in two sizes; 45mm and 40mm, so while the 45mm size is slightly bigger than the 40mm Versa 3, it's just as compact as the smaller size. Vivoactive 4 is slightly thicker than Versa 3, although not so bulky. Both are also lightweight on average, you shouldn't have any problem wearing any of these two all day long.
The display technology also differs, while AMOLED powers the 1.58 inches display of Versa 3, its MIP LCD technology for Vivoactive 4's 1.3/1.2 inches display. AMOLED is richer in color and as such Versa 3 has a more colorful and interactive display than that of Vivoactive 4.
In summary, each of these two has a decent design that's sturdy, compact, and lightweight.
FITNESS TRACKING
With any of these two smartwatches, you can track a whole of activities offered in slightly different ways. Starting from the basics, both smartwatches will track your steps, calories, help you manage stress, track your sleep in stages, and as well track your heart rate. And with inbuilt GPS in each of these two, you can track your outdoor activities like routes, locations, and other related metrics.
You'll find a menstrual cycle tracking app on both smartwatches that allow women to log and track period cycle. Each of these two will also allow you to log your water and food intake. Moreover, while there's the Fitbit Coach which features animated workout modes on Versa 3 that coach you through some of your favorite sport modes, Garmin also offers animated sport modes on Vivoactive 4.
You get to choose from 20 preset sport modes on both smartwatches, both also can count floors climbed – thanks to the built-in altimeter.
However, I think Vivoactive 4 is a more complete fitness smartwatch than Versa 3, it features blood oxygen tracking that monitors your blood oxygen during the day and when you sleep. This is unlike Versa 3 that only tracks your blood oxygen at night when you sleep and then shows your SpO2 levels through Fitbit's Signature watch face – its not a complete SpO2 tracking feature.
Moreover, Vivoactive 4 has a safety tracking feature that allows it to automatically send your location to a preset contact during outdoor activity – thanks to its built-in incident detection. Versa 3 lacks safety tracking of any sort.
MEDIA
Both smartwatches come with 4GB storage out of which about 2.5GB is available for storing your favorite tracks. While you can't add personal music to the Versa 3, you can add your personal music to Vivoactive 4, and it also features Amazon Music, Deezer, and Spotify, while Versa 3 features Deezer, Spotify, and Pandora.
Note that the Spotify app for Versa 3 only allows you to control music played via the Spotify app on your phone.
Versa 3 has a microphone and loudspeaker which are not present on Vivoactive 4. This allows you to use Alexa voice assistant to do simple tasks with your voice. Google Assistant have also been added to the Versa 3.
Meanwhile, the recently released Venu 2 Plus has both a microphone and speaker that allows for Bluetooth calls. It also supports three voice assistants; Bixby, Siri and Google Assistant.
Both smartwatches will allow you to accept or reject calls that must be continued on your connected smartphone. Moreover, the Versa 3 has a loudspeaker that allows you to make and receive calls from the watch.
NOTIFICATIONS
Managing notifications you receive on your phone is a basic function that is available in both smartwatches. Any of these two allows you to reply to notifications you receive (Android only). However, while you can reply with emojis, preset texts, and voice on Versa 3, Vivoactive 4 only supports reply with preset texts.
BATTERY LIFE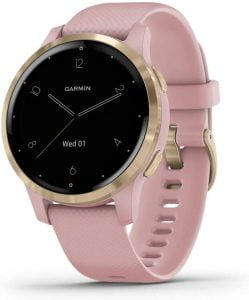 Like I mentioned earlier, each of these two has a long battery life that allows you to go long from a single charge. I have averaged about 5 days+ with Versa 3 which is slightly behind Vivoactive 4 which can last up to 7 days+.
Fitbit Versa 3 vs Garmin Vivoactive 4 – Final Thoughts
Although each of these two has got a decent design, long battery life, lots of fitness tracking, and media features. I go with Versa 3, it's a more complete smartwatch with a microphone and loudspeaker. Meanwhile, as per fitness tracking, Vivoactive 4 is a more comprehensive fitness smartwatch with longer battery life.
Prices Compared