Huawei Band 7 is a very compact and lightweight smartband that's designed and equipped to track your daily activities and also help you stay connected to notifications you receive on your phone. I have been using this Band for the past 1 year and in this time, I did lots of tests with regard to its activity tracking accuracy and performance. This is a long-term review of the Huawei Band 7 that takes into account the many features of this outstanding device as well as its shortcomings.
Huawei Band 7 Review
Huawei Health app is the companion app
The very first thing you need to know about the Huawei Band 7 is that like every other wearable from Huawei, the Huawei Health app is the companion app for the Band. This app will allow you to pair the Huawei Band 7 with your phone. The app will also allow you to configure how the device functions.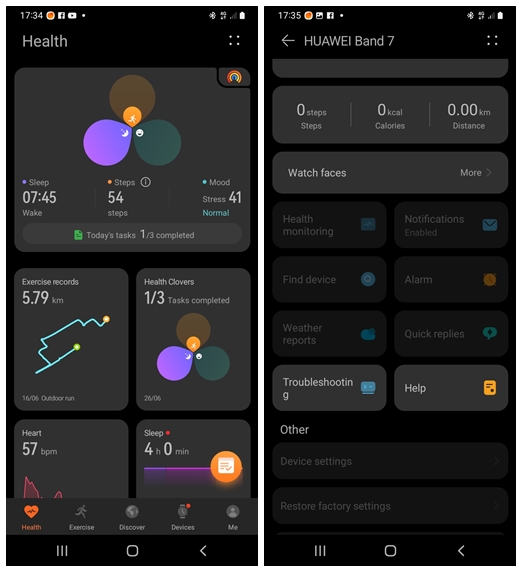 The Huawei Health app isn't the most sophisticated Health app I have seen but overall it is an awesomely designed app. It has a decent and neat interface, not so cloggy, yet enriched with interesting features. From the app, you can configure how the Band tracks your daily activities and reminds you when there's a new notification.
Design
In terms of design, I will score the Huawei Band 7 90%. This high rating isn't because of its appearance which I consider boring – No thanks to the plastic frame that leaves it with a cheap look (of course one wouldn't expect a premium frame for a Band that costs less than $50). I scored the design very high because this is one of the most comfortable wearables, it's very lightweight and compact – of course, a smartband should be very comfortable on the wrist.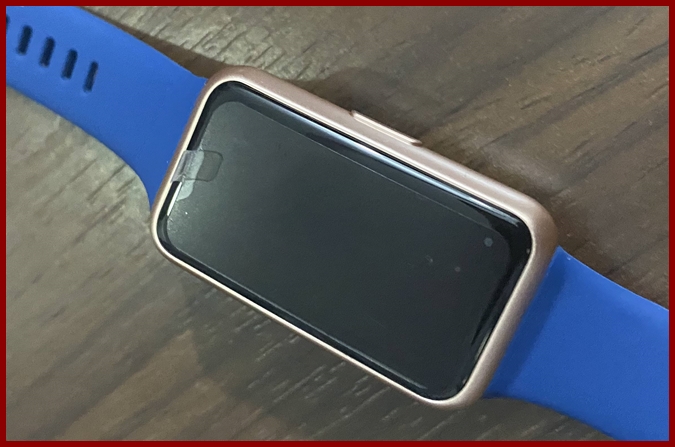 Excluding the strap, the Huawei Band 7 weighs just 16g, and this makes it very lightweight. It is equally very compact. In fact, I could wear the Band all day and never felt like removing it. Though wearing the Band and fastening the straps too tight can irritate the skin when you wear it for too long. What I do is loosen up the straps a bit. This will utterly prevent any form of skin irritation.
Despite having a plastic frame, the Huawei Band 7 is very durable. In the last 1 year of using the device, I haven't had any issues whatsoever. It is also rated 5ATM which means it's safe to wear the Band while bathing or swimming in the pool. The screen is tempered glass while the straps come in silicone. Though, you can always change the straps with any other material of your choice.
Albeit the Huawei Band 7 isn't the most stylish Band, it's a sturdily built device and very comfortable to wear.
Display
The Huawei Band 7 has a 1.47 inches display that's powered by AMOLED technology. The display is quite very colorful and bright enough to be read even under direct sunlight.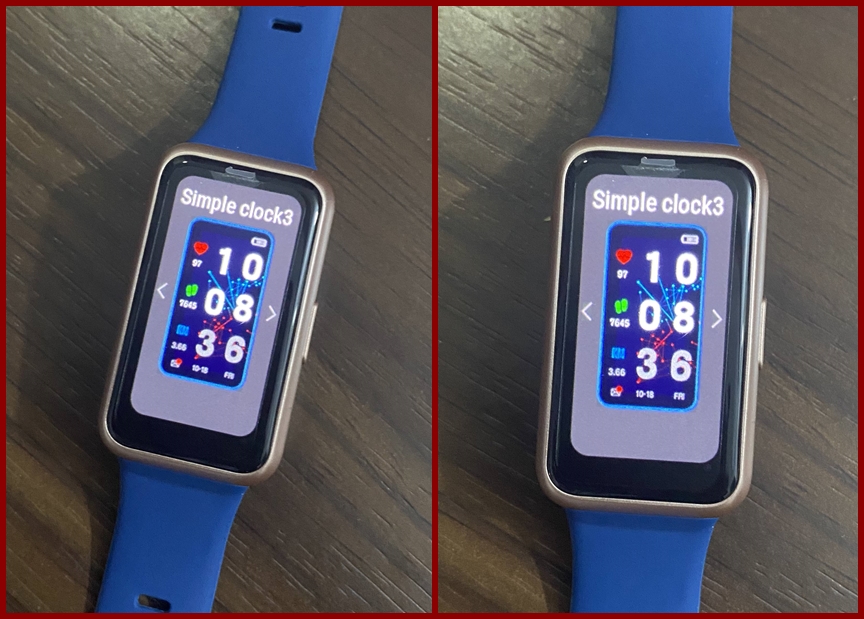 The Band comes with a few preloaded watch faces, and it can store a couple of watch faces on the device so that you can easily change watch faces with any other of your choice. You can add more watch faces from the Huawei Health app. Many of the watch faces on the app are free while a significant number of them are premium watch faces that require payment.

Interacting with Band is via the touch-sensitive screen and a physical button by the side. Pressing the side button will take you to the homescreen, and when you press the side button from the homescreen, it will show the app menu.
Performance-wise, the Band responds flawlessly to every interaction. The user interface isn't so sophisticated but has some interesting features and is also very easy to use. When you swipe up from the homescreen, you get to see your notifications. If you swipe down, you will be able to access the quick panel section. And when you swipe left or right from the homescreen, you get to access your favorite apps and you can choose which app to add to your favorites.
Although the display isn't very bright, the Huawei Band 7 has a decent display that's very legible and easy to read under any ambient condition.
Activity Tracking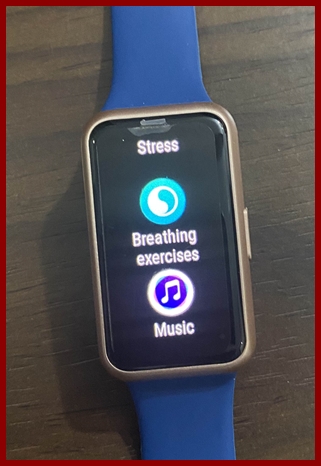 The Huawei Band 7 is equipped with a gyroscope, heart rate sensor and an accelerometer. These three pieces of hardware enable the device to track your daily activities. It will track your steps and calories throughout the day. It will also monitor your stress level throughout the day, and if you feel stressed, there's a breathing app that can help you reduce stress by guiding you through a breathing session. You will need to enable automatic stress monitoring in the Huawei Health app to monitor your stress all-day with the Huawei Band 7.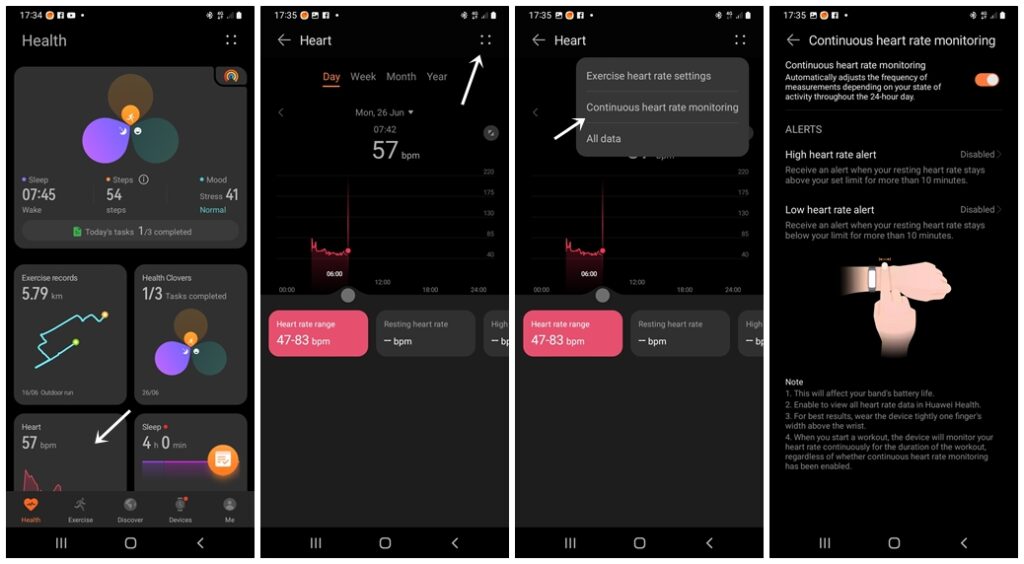 Heart rate tracking is a basic function in any wearable, and the Huawei Band 7 does a decent job of tracking my heart rate. When automatic heart rate tracking is enabled in the Huawei Health app, the Band will monitor your heart rate 24/7. It will show your resting heart rate, average heart rate, minimum and maximum heart rate.
I compared the heart rate tracking function of the Huawei Band 7 against the Galaxy Watch 5 Pro, and from the tests, the Band was quite accurate and very consistent in tracking my heart rate.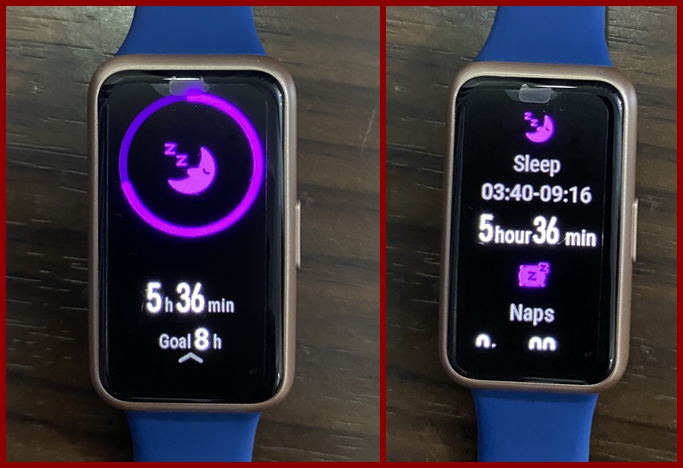 Like many wearables, the Huawei Band 7 will monitor your sleep in all four stages. It will track your sleep in awake, light, deep and REM stages. You simply need to wear the Band properly and (not more than 1-2 mm from your wrist and the straps should be fastened a little tightly) it will monitor your sleep.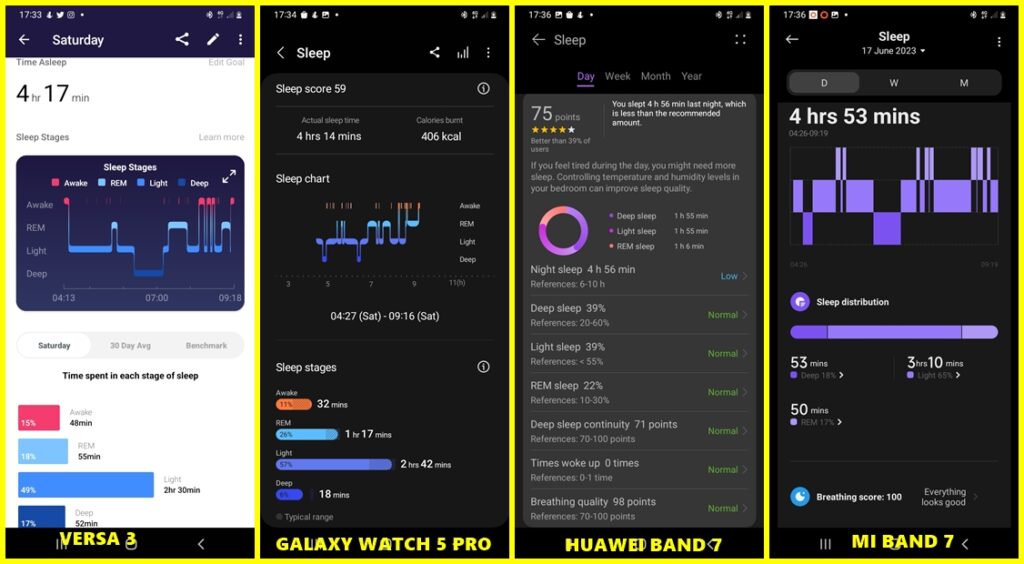 When you wake up in the morning, you can view your sleep details directly from the device using the sleep app. You can also view details of your sleep in the Huawei Health app. I also compared the sleep tracking consistency of the Huawei Band 7 against the Galaxy Watch 5 Pro. From my many tests, I came to the conclusion that the Huawei Band 7 is a decent sleep tracker. Though I can't really tell how accurate it is in tracking my sleep stages considering the significant discrepancies in sleep stage duration among the different devices and of course EEG wasn't applied.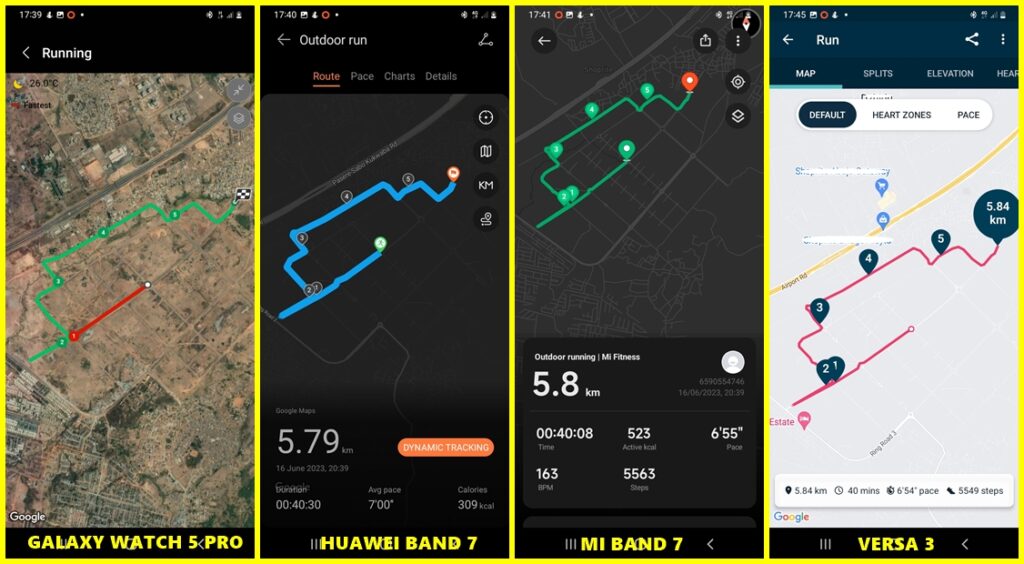 There is no inbuilt GPS in the Huawei Band 7, however, it will still map your routes if you carry your phone along. I'm very disappointed with the connected GPS feature of the Band, it doesn't work as it should. Take for instance the Mi Band 7 which also lacks inbuilt GPS but will automatically map my routes once I start an outdoor workout on the device. With the Huawei Band 7, you need to start that outdoor workout on your phone otherwise the Band will not map your routes accurately. That's quite awkward, I hope that has been corrected with the newly released Huawei Band 8.
Other health tracking functions of the Band include sedentary reminder and menstrual cycle tracking for woman app.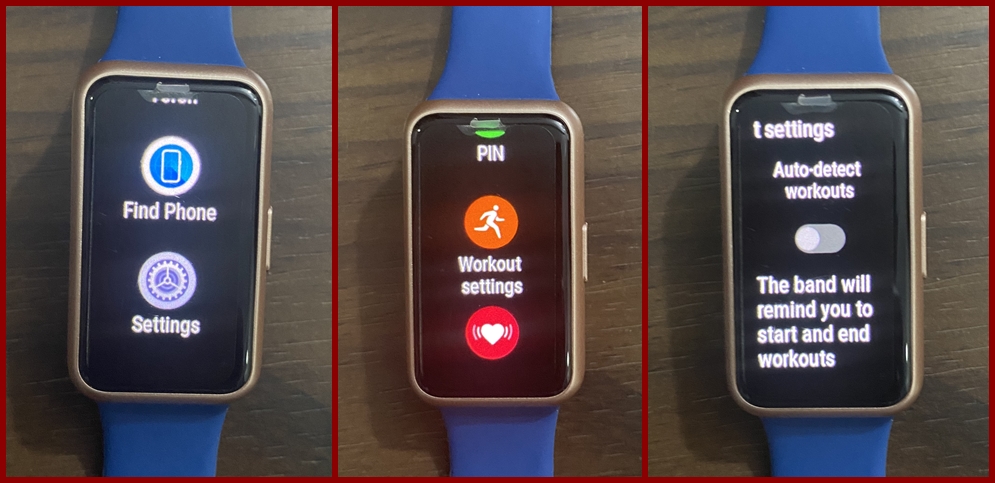 The Huawei Band 7 features 95 preloaded sports modes and can auto-detect and track 5 exercises. You will need to enable auto workout detection by going to the settings app, tap on workout settings and toggle on auto-detect workouts.
Despite the flawed connected GPS function, I still score the Huawei Band 7 high as a comprehensive health tracker that can significantly help you stay fit and archive more fitness goals.
Managing Notifications and Apps
Beyond its awesome design and many health tracking features, the Huawei Band 7 also plays a nice role as a companion to your phone. It will alert you every time you receive a message on your phone. You need to enable notifications for your preferred apps in the Huawei Health app, and when you receive a notification, the Band will vibrate to inform you.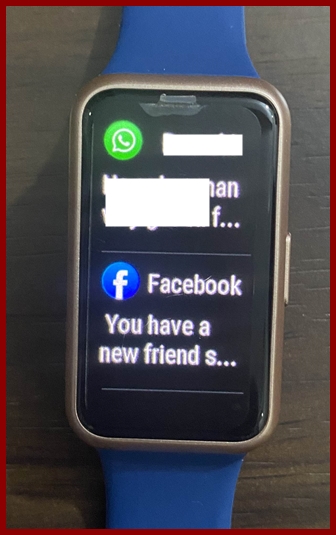 You also have the option to reply to messages with quick replies. The Band features a couple of premade quick replies that will allow you to reply to messages. If there's an incoming, you can either end the call or reject the call using quick replies.
You can add and edit the quick replies in the Health app, though for some reason I haven't been able to edit or add more replies. Some users suggest disconnecting and reconnecting the Band or changing your language to English. I tried all that but the problem persisted, I guess it's a bug.
Beyond the awesome notification management features, the Huawei Band 7 also features some interesting utility apps that can help improve your productivity. It features an alarm, stopwatch and timer apps. The timer and alarm apps remain my favorites. There is also a touch app that turns the screen into a torchlight, this can come in handy in helping illuminate small dark spaces.
The Find My Phone app is also present, this app can help you find your phone if you misplace it and the phone is nearby.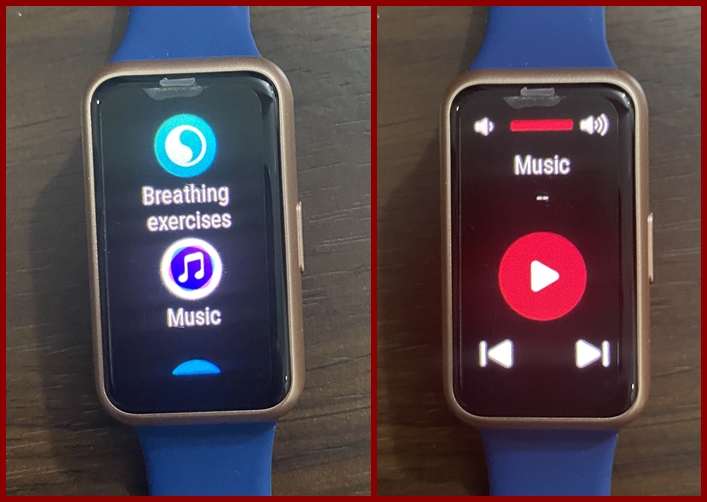 Another interesting app I like is the remote music control app that lets you easily control whatever app is playing music on your phone. I find it very helpful especially when my phone isn't with me, you can pause, play or skip to the next track.
Battery Life
If there's one reason, I will give the Huawei Band 7 a 5-star rating it's the long battery life. The Band is equipped with a 180mAh battery capacity which according to the manufacturer can keep you going for up to 14 days. Well, from my tests, I got about 11 days of battery life. This is with always-on turned-off, continuous heart rate tracking, stress and blood oxygen monitoring all enabled. I also wore it to sleep every day. I'm impressed with the battery life of the Band, in fact, I always forgot to charge it.
Charging the Band is also very easy and the good thing is that it supports fast charging. It comes with a dual-pin magnetic charger and it takes less than an hour to fully charge the device.
Conclusion
In all, I think the Huawei Band 7 is a fantastic smartband. It's very lightweight and comfortable to wear. The display as well as the battery life is also great, and there are loads of activity-tracking features.
However, the connected GPS function is totally rubbish. It is a far cry from what it should be and a major reason why I would pick the Mi Band 7 over the Huawei 7.
Nonetheless, considering the very low price tag, the Huawei Band 7 is still a fine bargain.