Just a day before the Mi Band 8 was released, Huawei released the Huawei Band 8 which succeeds the Huawei Band 7. The new smartband is not so different from its predecessor, however, the design is slightly different and it weighs a little less. Like its predecessor, it can track your daily activities and also features quick replies function. In this post, we'll be comparing the Huawei Band 7 vs 8 to understand what's new and to help you decide if an upgrade is a worthwhile investment.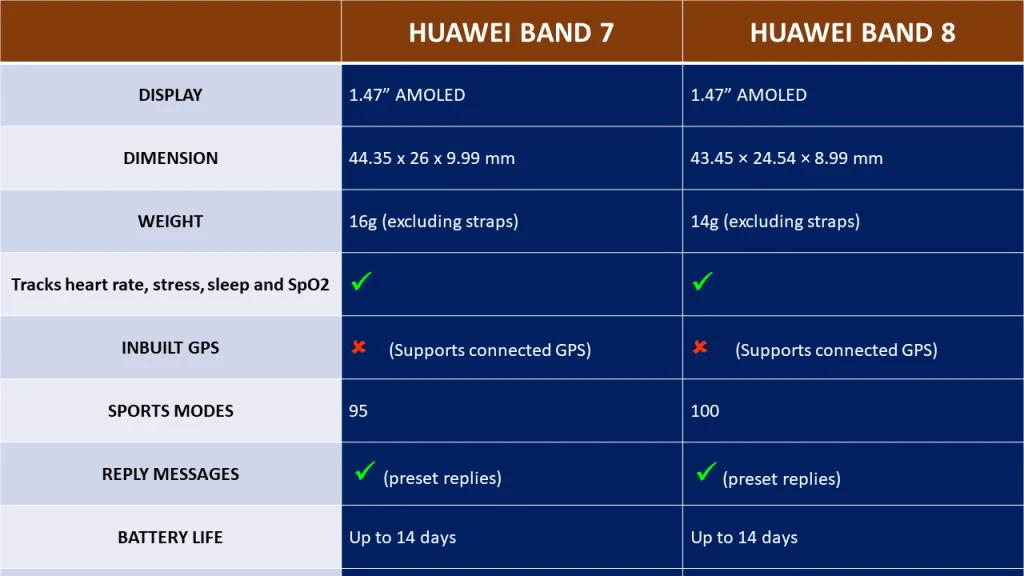 In summary, the difference between the Huawei Band 7 and 8 is that the latter has a slightly different appearance, the edges are a bit flattened unlike the Band 7 which has curved edges. The Band 8 has 100 sports modes while its predecessor has 95 sports modes. While the Huawei Band 7 supports fast charging, the Huawei Band 8 charges even faster. It took me 45 minutes to fully charge the device. Huawei claimed to have improved activity tracking on the Band 8, though, from my tests, I haven't noticed any significant difference. Nonetheless, the Huawei Band 8 like its predecessor has been very consistent in tracking my sleep, heart rate and other activities.
Huawei Band 7 vs 8 – Full Specifications
 
 
Product Info

Huawei Band 7 Full Specifications and Features

Huawei Band 8 Full Specifications and Features

Price

$

54.42
-
ABOUT DEVICE
ABOUT DEVICE
ABOUT DEVICE
Device name
Huawei Band 7
Huawei Band 8
Device type
Fitness smartband
Fitness smartband
Gender
Unisex
Unisex
Release date
May, 2022
April, 2023
Predecessor
Huawei Band 6
Huawei Band 7
Successor
Huawei Band 8
—
Versions
—
—
BODY
BODY
BODY
Dimension
44.35 x 26 x 9.99 mm
43.45 × 24.54 × 8.99 mm
Weight
(excluding straps), 16g
(excluding straps), 14g
Shape
Rectangular
Rectangular
Case material
Polymer
Polymer
Strap material
Silicone
Silicone
Bezel material
Bezeless
Bezeless
Strap size
135 – 210mm, 16mm
135 – 210mm, 16mm
Interchangeable strap
Yes, 16mm
Yes, 16mm
Screen protection
Anti-scracth glass
Anti-scracth glass
Water resistance
Yes, 5ATM
Yes, 5ATM
Durability test
—
—
Swim-proof
Yes, recommended
Yes, recommended
Color
Flame red, Graphite black, Pink, Wilderness Green
Pink, Emerald green, Midnight black, Vibrant orange
DISPLAY
DISPLAY
DISPLAY
Display size
1.47 inches
1.47 inches
Display type
AMOLED, Full color
AMOLED, Full color
Display resolution
194 x 368 pixels
194 x 368 pixels
Pixel density
283 PPI
282.8 PPI
Always on
Yes
Yes
Custom watch face
Yes
Yes
Input type
1 Physical button, Touchscreen
1 Physical button, Touchscreen
CONNECTIVITY
CONNECTIVITY
CONNECTIVITY
Bluetooth
Bluetooth v5.0
Bluetooth v5.0
Bluetooth calling
No
No
GPS
(connected GPS), No
(connected GPS), No
NFC
(China only), Yes
(China only), Yes
Wi-Fi
No
No
MEMORY
MEMORY
MEMORY
RAM
—
—
ROM
—
—
Memory card slot
No
No
CELLULAR CONNECTIVITY
CELLULAR CONNECTIVITY
CELLULAR CONNECTIVITY
Technology
None
None
SIM type
None
None
Band
—
—
NOTIFICATIONS
NOTIFICATIONS
NOTIFICATIONS
SMS alert
Yes
Yes
Calls alert
Yes
Yes
Email alert
Yes
Yes
Event reminder
Yes
Yes
Third-party apps alert
Yes
Yes
Reply to Notifications
Yes (preset replies)
Yes (preset replies)
MEDIA
MEDIA
MEDIA
Audio
No
No
Bluetooth music
No
No
Loudspeaker
No
No
Microphone
No
No
Camera
No
No
Radio
No
No
SENSORS
SENSORS
SENSORS
Sensor(s)
—
—
ACTIVITY TRACKING
ACTIVITY TRACKING
ACTIVITY TRACKING
Blood oxygen
Yes
Yes
Blood Pressure
No
No
Calories
Yes
Yes
Distance
Yes
Yes
ECG tracking
No
No
Heart rate monitoring
Yes
Yes
Sleep tracking
Yes
Yes
Steps
Yes
Yes
Floors climbed
No
No
Stress
Yes
Yes
Fall detection
No
No
Menstrual cycle
Yes
Yes
VO2 Max
Yes
Yes
Swim-tracking
Yes
Yes
Underwater heart rate tracking
No
—
On-screen workout
No
No
Sport modes
90
100
BATTERY
BATTERY
BATTERY
Battery type
non-removable Lithium-polymer
non-removable Lithium-polymer
Battery capacity
—
—
Battery life
Regular: 14 days
Heavy usage: Up to 9 days, Regular: Up to 14 days
Charging type
Magnetic charger
Magnetic charger
Charging time
30min-1hr
30min-1hr
Solar charging
No
No
PLATFORM
PLATFORM
PLATFORM
Chipset
—
—
CPU
—
—
GPU
—
—
Operating system
—
HarmonyOS 2
MISC
MISC
MISC
Companion app
Huawei Health App
Huawei Health App
Compatibility
Android 6.0+, iOS 9.0+, Harmony OS 2.0+
Android 6.0+, iOS 9.0+, Harmony OS 2.0+
Payment system
Alipay
Alipay
Voice command
No
No
Find my phone
Yes
Yes
Box content
Charger, Manual, Straps, Huawei Band 7
Charger, Manual, Straps, Huawei Band 8
Difference between Huawei Band 7 and 8
While the Huawei Band 8 looks very much like its predecessor and tracks similar activities, it welcomes new additions which are listed below.
Huawei Band 8 is slimmer and lighter

Huawei Band 8 at a glance.

The Huawei Band 7 is a very slim and lightweight smartband, I never had any problem wearing it all day long. I often forget I'm wearing the band. It's only 9.99mm thick and weighs just 16 grams without the straps. However, Huawei has taken it a bit further, the new smartband weighs just 14 grams excluding straps, and it's only 8.99mm thick.

Another noticeable difference between these two is their appearance. Unlike the Huawei Band 7 with curved edges, the Huawei Band 8 has a more flattened frame which for me looks more stylish and attractive.

Huawei Band 7 has an easier to remove straps

The straps come in silicone and are swappable. Though the strap hooks have been redesigned. I recall showing people how to change the straps of the Huawei Band 7, it was quite difficult to push the pin especially if you don't have raised fingernails. With the Huawei Band 8, the straps are now very easy to change. You just need to push and remove the straps.

Meanwhile, the frame of both smartbands is the same polymer material while the straps are made of silicone, except for the orange color of Huawei Band 8 which comes with nylon straps.

Like Huawei Band 7, the new band is also rated 5ATM which represents up to 50 meters of waterproof resistance. In other words, it's safe to wear it to the shower or swimming pool.

While the Huawei Band 7 is available in flame red, graphite black, pink and wilderness green, the Huawei Band 8 is available in four colors which include black, pink, emerald, and an orange model that ships with a nylon strap.

Tracking algorithms have been improved
Nothing much has changed in the activity tracking department. The Huawei Band 8 tracks similar activities as its predecessor. Both smartbands can continuously monitor your heart rate, calories, steps, blood oxygen and stress.
These two will also track your sleep in all four stages. Meanwhile, Huawei-patented algorithms like TruSeen, TruSleep and TruRelax have been upgraded to ensure more accurate tracking results.
From my many tests with higher-end devices like the Galaxy Watch 5 Pro and Versa 3, the Huawei Band 7 has been consistent in tracking my heart rate, sleep and blood oxygen.
And going by tests with the Huawei Band 8, I could hardly spot any change to support the claim by Huawei that tracking algorithms have improved. Both Bands were pretty consistent in tracking my daily activities.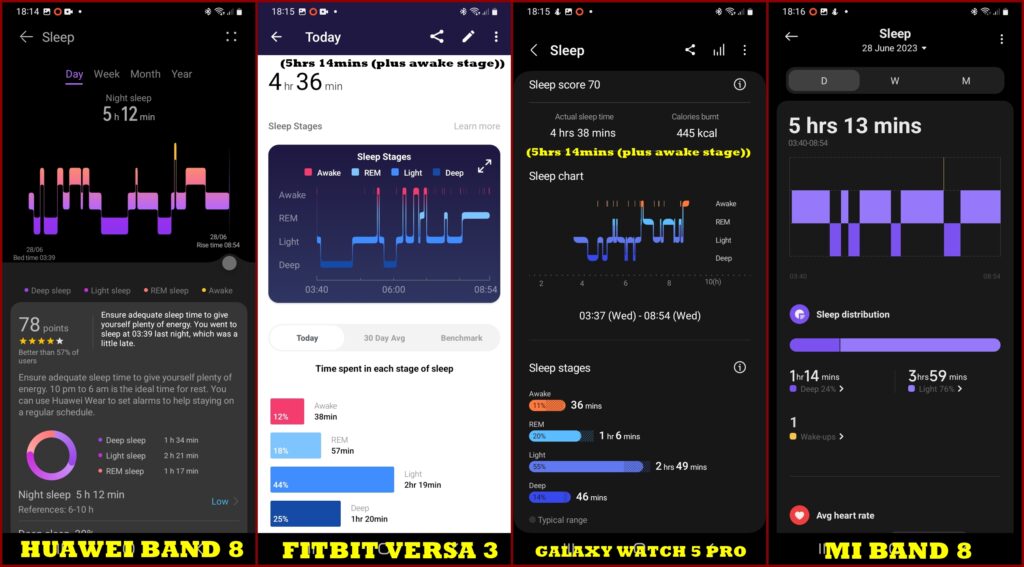 I tested the sleep-tracking accuracy of the Huawei Band 8 against the Versa 3 and Galaxy Watch 5 Pro. The results from my many tests suggest the Huawei Band 8 is consistent in tracking my sleep duration. However, since EEG wasn't employed in my tests, I cannot say how accurate the Band is in tracking time spent in the various stages of sleep.
The Huawei Band 8 also features more sports modes than its predecessor. From my count, the Huawei Band 7 features 95 sports modes. Meanwhile, the Huawei Band 8 features 100 sports modes.
There is still no inbuilt GPS in Huawei Band 8. It supports connected GPS to your phone just like Huawei Band 7. You must carry your phone along to map your routes and locations with any of these two smartbands.
The connected GPS function on both Bands doesn't work as it should. For instance, with Mi Band 8, you just need to start the workout on the Band and it would automatically connect to your phone's GPS. With the Huawei 7 or 8, you must start the workout from the Huawei Health app on your phone otherwise the Band wouldn't track your route, pace and distance accurately. I'd thought that would be fixed with the Huawei Band 8 but unfortunately, it's still the same issue.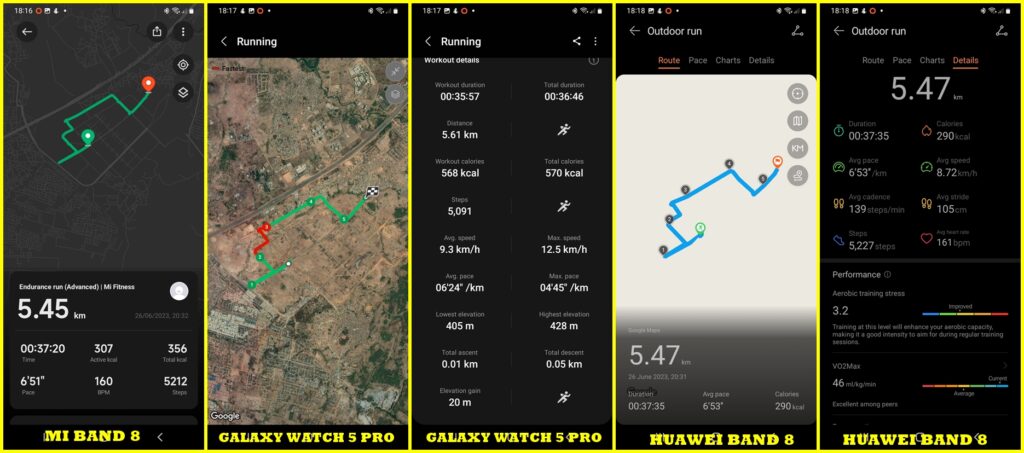 Nonetheless, I tested the route mapping accuracy of both Bands against the Galaxy Watch 5 Pro. My many tests showed the Huawei Band 7 and 8 to be accurate in mapping my routes as long as I start the workout from the Huawei Health app.
Beyond the slight differences in design and the few additional sports modes, the Huawei Band 8 is the same device as Huawei Band 7.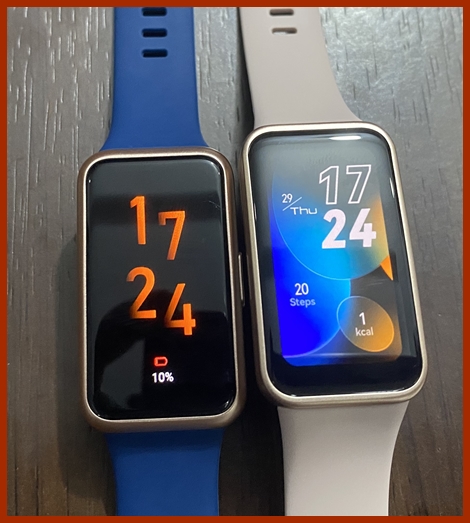 Like its predecessor, the Huawei Band 8 spots a 1.47 AMOLED display that's very colorful and easy to read in any light condition. You get a physical button by the side in addition to a touchscreen feature that makes interacting with the device very easy. The Huawei Health app features loads of watch faces you can choose from to customize the look of either smartbands.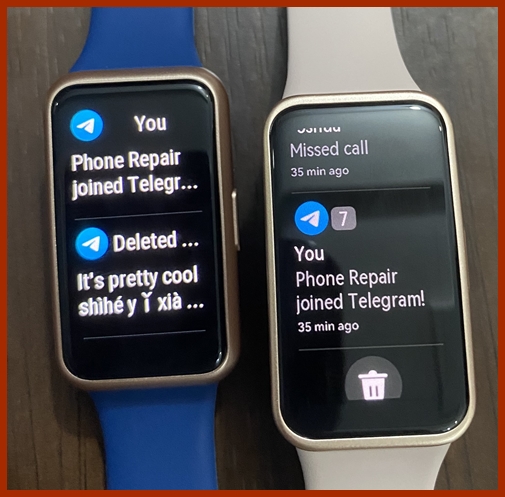 Both smartbands will also keep you connected so that you never get to miss important updates on your phone. Both watches will alert you when you receive notifications from apps installed on your phone. You need to enable notifications for your preferred apps, and you will be alerted when messages arrive. You have the option to reply to both calls and messages with preset quick replies.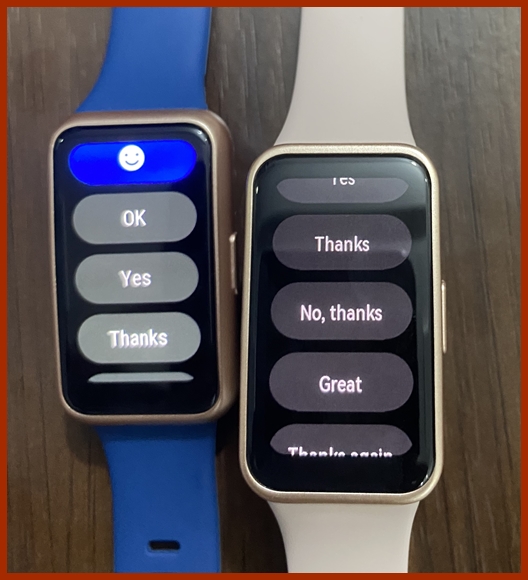 Like the Huawei Band 7, there's an NFC version of the Huawei Band 8 which is only available in China. This model will allow you to store your card details on the watch and make payments at supported terminals. To keep your data safe, you can setup a passcode and lock the watch.
The battery life also hasn't changed. Huawei claims the Huawei Band 8 can last up to 14 days in typical usage, and up to 9 days in heavy usage. This is similar to what you get with Huawei Band 7. Both watches support fast charging, I'm always amazed at the speed at which my Huawei Band 7 takes to charge. It takes less than an hour to fully charge. Though the Huawei Band 8 now charges even faster. It took me 45 minutes to fully charge the device.
Huawei Band 7 vs 8 – Should You Upgrade?
To be very honest with you, I think Huawei has become less innovative in redefining the Huawei Band series. There's no significant change to warrant an upgrade. The design looks almost the same, features are still the same, and battery life despite being outstanding hasn't improved either. I wanted to see a more durable build, an inbuilt GPS, and a longer battery life.
Nonetheless, it's all about preference. If you really like the flattened design and redesigned strap, you can upgrade. Otherwise, the slight changes leave very little to be desired.