Apple Watch Series 9 Stainless steel – Full Smartwatch Specifications
$699.00
Release date:: September, 2023
Display:: 1.69/1.9 inches (41/45mm) | LTPO OLED, Touchscreen, Digital Crown
Body:: Stainless steel | Rubber, Textile or Stainless steel bands
Battery Life:: 18 hrs
Storage:: 1GB RAM, 64GB ROM, Microphone, Loudspeaker
Compatibility:: iPhone XS or later with iOS 17 or later
EDITOR'S RATING

| | |
| --- | --- |
| Design: | (5.0 / 5) |
| Battery: | (3.4 / 5) |
| Fitness tracking: | (4.6 / 5) |
| Features: | (4.9 / 5) |
| Price: | (4.3 / 5) |
| Average: | (4.4 / 5) |
Last updated on December 3, 2023 2:14 am
Compare
Description
After a long wait, Apple at their annual September event announced the most popular watches of 2023, the Apple Watch Series 9 and Apple Watch Ultra 2. These two ship with the all-new S9 chipset – a chip made by Apple which the company claims boasts better performance than its predecessor, the S8 chip. Beyond the new and faster chipset, the new Apple Watches have 64GB storage and the display is brighter. Moreover, inline with the company's mission, the new Apple Watches are made from recycled materials that result in over 70% carbon reduction – thus helping make the earth safer.
While the Ultra 2 succeeds Ultra, the Watch 9 succeeds Watch 8. Like its predecessor, the Watch 9 is available in 41mm and 45mm sizes. Each of these sizes is available in stainless steel and aluminum.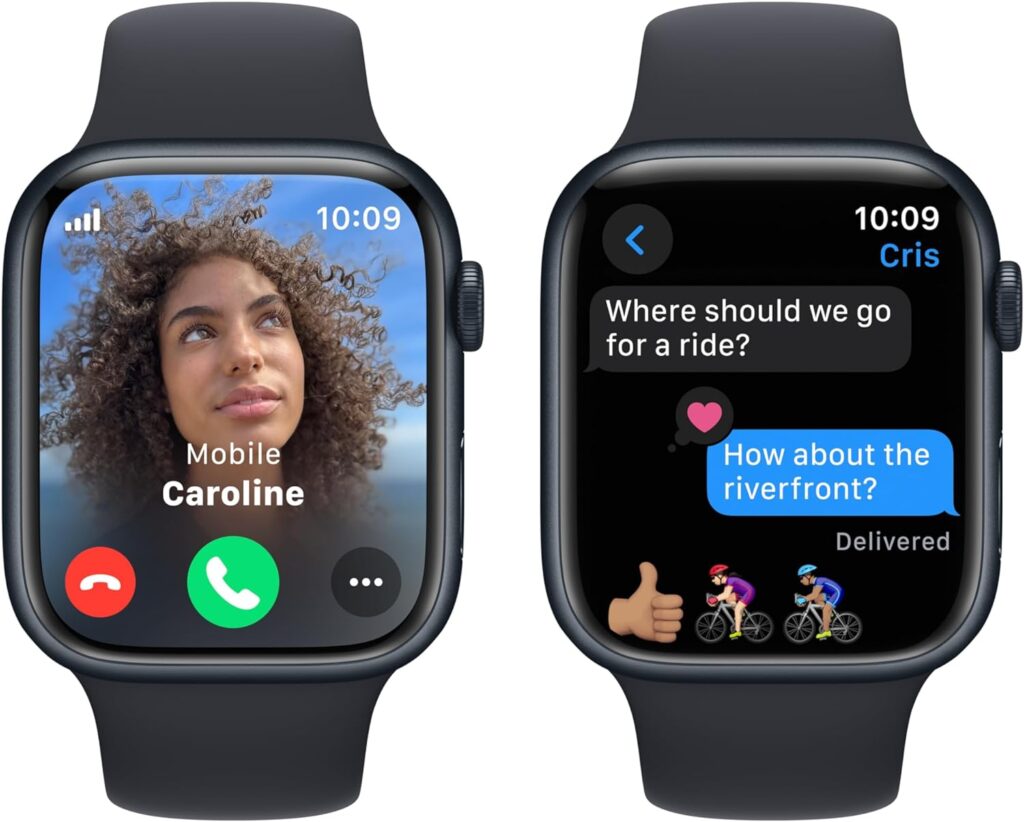 Furthermore, while the aluminum unit is available in GPS and Cellular models, the Stainless Steel unit is only available in Cellular model just like the Watch Ultra and Ultra 2.
Interestingly, the prices of the Watch 9 are exactly the same as last year's Watch 8. In other words, you won't need to spend additional money to get the new watch.
The Watch 9 41mm aluminum GPS model retails for $399 while the Cellular model retails for $499. Add $30 for the 45mm unit. Meanwhile, the stainless steel 41mm unit goes for $699 while the 45mm unit retails for $729.
The build quality of the Watch 9 is no different from that of its predecessor. It spots the same appearance and case size. The frame material is also the same. The only thing that's new as far as design is concerned is that Apple has gone carbon neutral to help safeguard the earth. Thus both the frame and textile sport loop bands are made from recycled materials with up to 78% reduction in carbon emission. The Watch 9 stainless steel model has a stainless steel frame while the screen is made of sapphire glass.
Apple sells three different band materials for the Watch 9. You have rubber, stainless steel and textile materials.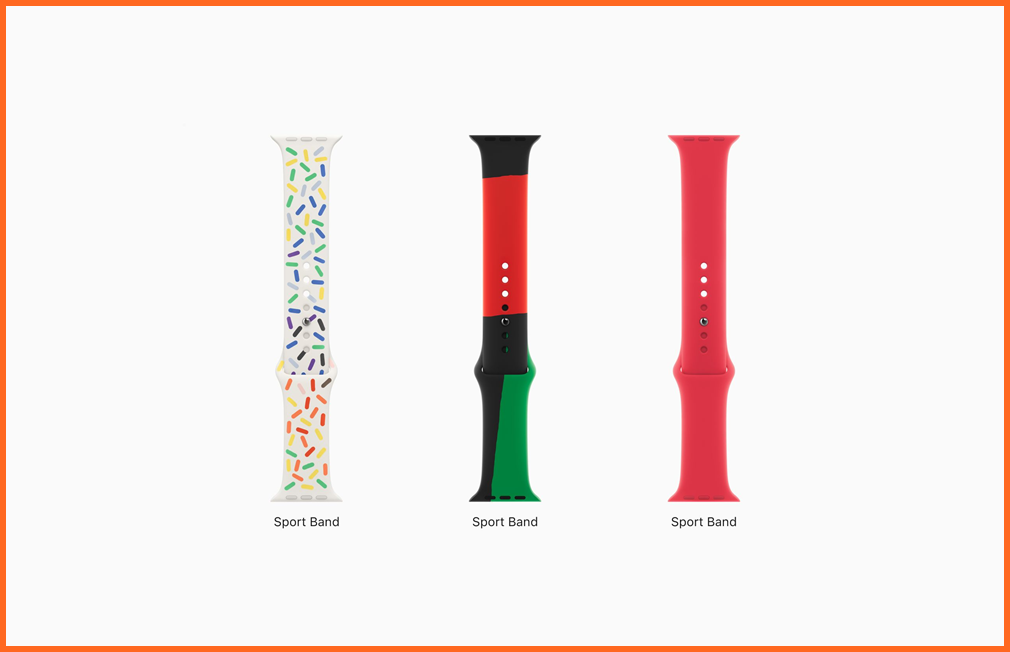 The rubber bands comes in solo loop, sport band and Nike sport bands.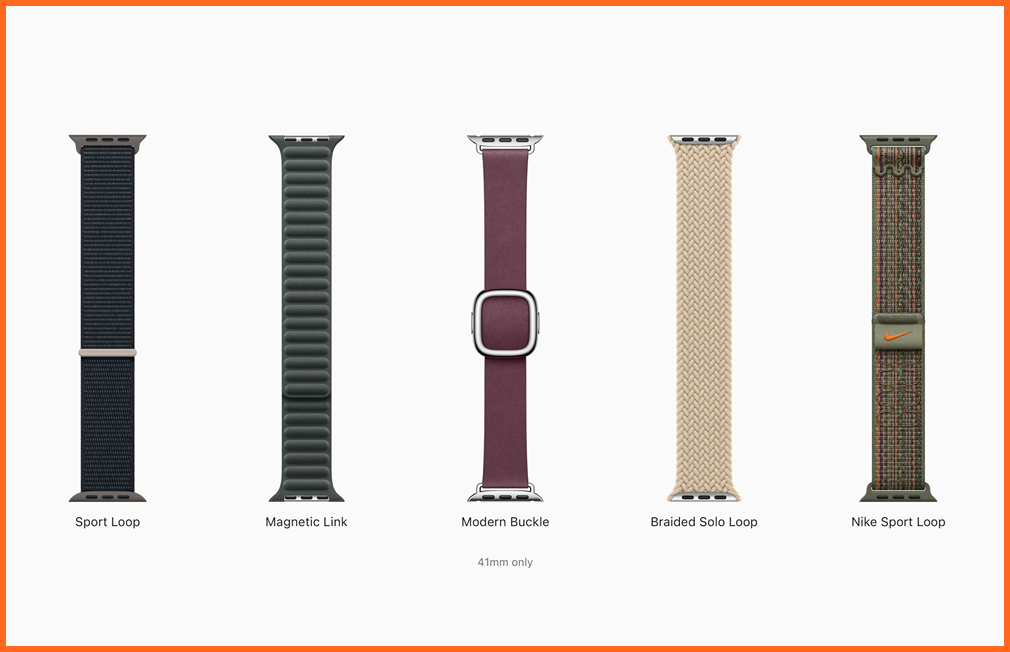 The textile bands comes in 5 different designs; sport loop, magnetic link, modern buckle, braided solo loop and Nike sport loop. Meanwhile, you will pay an additional $50 for the magnetic link and braided solo loop bands. In contrast, you will pay an additional $100 for the modern buckle band which is only available for the 41mm unit.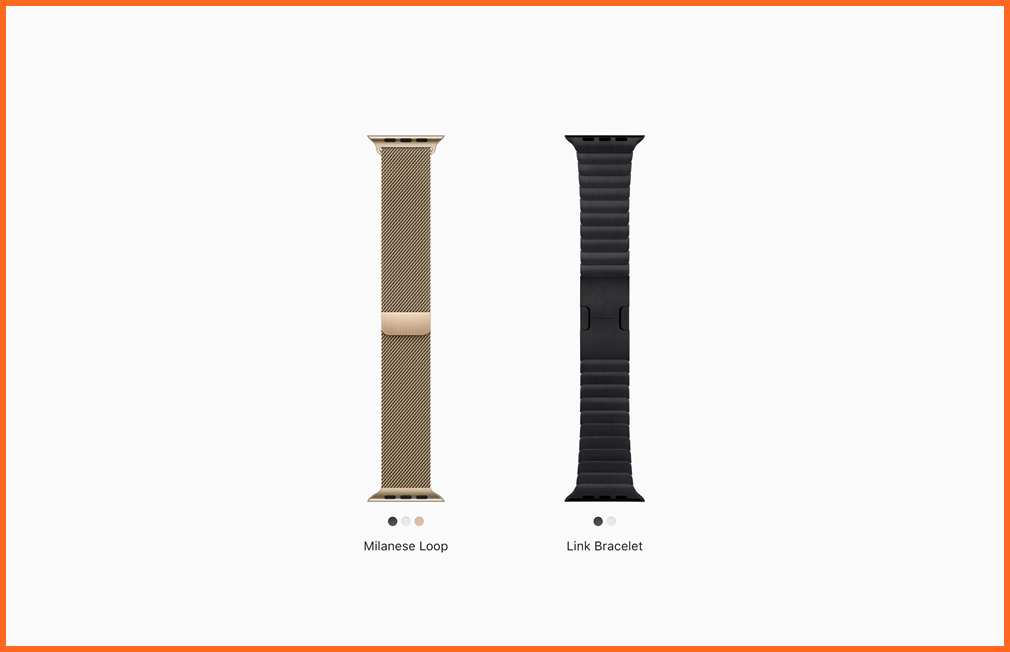 the stainless steel model which include Milanese loop and Link Bracelet. It's an additional $50 for the Milanese loop band and $300 for the premium Link Bracelet band. Meanwhile, the stainless steel model comes in three colors; graphite, silver and gold.
Since the Watch 9 has the same footprint as the Watch 8, it has the same display size as its predecessor powered by LTPO OLED. The 41mm unit has a 1.69 inches display size while the 45mm unit has a 1.9 inches display. Though, the display at 2000nits is now twice as brighter as that of the 1000nits of Watch 8.
The Watch 9 alongside the Ultra 2 are equipped with the new S9 chipset which brings some interesting features like a more responsive and faster Siri, and enhanced hand gestures that make interactions very easy even when your hands are full. Beyond these, the Watch 9 like Ultra 2 ships with WatchOS 10 out of the box. The new operating system succeeds WatchOS 9 and it brings new accessibility features. Interestingly, WatchOS 10 will also come to Apple Watch Series 4 and above.
With a massive 64GB on the Watch 9, it has the biggest storage capacity I have seen on any Watch. This will of course allow you to take even more songs and podcasts with you on your watch. It also has a speaker and microphone that allow you to make and receive calls when your phone is nearby. If you opt for the cellular model, you will be able to make and receive calls without your phone.
In the battery life section, nothing much has changed. You get the same battery life estimates as last year's Watch 8. In a typical scenario, the Watch 9 boasts up to 18 hours of battery life and up to 36 hours when the battery saver is activated. Meanwhile, like its predecessor, it also supports fast charging.
Apple Watch Series 9 Features
Features 1.69/1.9 inches (41mm/45mm) LTPO OLED-powered always-on display. Navigation is via touchscreen, 1 physical button, and a digital rotating crown with a hepatic feedback mechanism.
Sapphire glass covers the display of the Watch 9 stainless steel model while its frame is made of stainless steel.
Clock features include time/date, alarm, timer, and stopwatch.
You can customize the watch face from available watch faces or download watch faces from the pool of many watch faces available on the app store. WatchOS 10 also brings new watch faces.
Features Find my phone, remote music control, and remote camera control.
Keeps you connected to all that matters to you such as emails, SMS, and calls, so you never get to miss important updates.
Rated 5ATM (swim-proof), it's waterproof up to 50 meters which makes it suitable for swimming and bathing.
Compatible with iPhone XS+ and iOS 17.0+ devices.
Inbuilt microphone supports voice inputs via Siri voice assistants. It also has a speaker. The speaker and microphone support calls directly from the watch.
Equipped with 64GB onboard storage capacity that lets you take your music with you. You can get access to Apple Music with over 75 million tracks of musical motivation on your wrist. You can also catch up on the latest podcasts or listen to an audiobook. A subscription may be required. Other music services include Spotify, YouTube Music, and Tidal.
Equipped with an NFC chip that allows you to make payments on the go with Apple Pay (Not supported in all countries) .
The Watch 9 Stainless steel model has an embedded sim that makes it a standalone watch that will allow you to call, text, and stream Apple music without connecting to your iPhone.
Features an App Store onboard the watch that allows you to search and install your favorite apps directly on the watch.
Features international emergency calling that lets you call respective emergency contacts almost anywhere in the world.
Features Family setup – Allows family members who own an Apple Watch but don't own an iPhone to still enjoy all the benefits of an Apple Watch by connecting multiple Apple Watches to a single iPhone. Family setup also allows you to invite others to the home and wallet apps so that they can have access to important keys and also be able to control important home appliances.
Siri can translate spoken words into a different language (over 10 languages supported). It also allows you to do simple tasks with your voice.
NEW: The new S9 chip enhances the assistive touch features. It enables double-tap gestures that will allow you to control calls, alarms and more by simply double-tapping your index and thumb fingers.
NEW: The Ultrawide Band 2 chip in the Watch 9 enables the Precision Finding feature that allows you to precisely zero in on a lost iPhone (This requires an iPhone and an Apple Watch with the Ultra Wideband 2 chip)
NEW: Also, thanks to the 4-core neural engine, Siri can now process requests directly on the device, making it faster. It can now also access your health and fitness data.
Apple Watch Series 9 Fitness Tracking Features
Features loads of preloaded sports modes including yoga, cycling, indoor and outdoor running and swimming. Also features a multisport workout mode and you can create custom workouts.
Tracks your swimming activities which include lap count, track average lap pace, and auto-detect stroke type to accurately measure active calorie burnt.
Features a breathing App in the mindfulness app that can help you return to calm by encouraging you to take a moment in your day to do deep breathing exercises for relaxation and stress reduction. The mindfulness app also has a reflect feature that allows you to set an intention and centre yourself with a beautiful animation.
With inbuilt GPS, you can track outdoor activities, so that you can see your pace in real-time, location, and routes.
Equipped with a third-generation heart rate sensor that can continuously monitor your heart rate to help you keep an eye on your heart health.
Tracks your steps, distance, and calories, and there is a sedentary reminder that reminds you to move when you stay idle for over 2 hours.
The Activity Ring app features stand, move and exercise functions that help monitor your daily activities, and can tell when you're sitting, standing or exercising more often than required. You can also compete with friends.
Features ECG tracking that lets you take instant ECG test directly from your wrist which can help you detect atrial fibrillation – a form of irregular heart rhythm. Moreover, individuals diagnosed with atrial fibrillation can also track AFib history.
Features incidental fall detection that can help you seek and get immediate help when a fall has occurred by auto-dialling preset emergency contacts if the watch detects a fall and you're unresponsive for 60 seconds. Moreover, with a powerful 256 g-force accelerometer, the Watch 9 can detect when your car has crashed.
Supports menstrual cycle tracking that allows you to log your cycle which can help you monitor and detect changes. The temperature sensor can help monitor the ovulation period by detecting temperature changes.
There is a Noise App that alerts you when decibels rise to levels that can impact your hearing. Moreover, hearing protection has been improved to be able to alert you when you reach the weekly listening dose as recommended by health authorities.
There is a Handwashing app that guides you to wash your hands for up to 20 seconds in line with WHO recommendations as well as reminds you to wash your hands when you get home which can help prevent COVID-19 and other easily communicable diseases.
The Sleep tracking app will track your total sleep time and time spent in each four stages of sleep. There is also a respiratory rate feature that tracks your breathing rate during sleep, and you can see your respiratory rate in the health app.
Features blood oxygen tracking that tracks your blood oxygen levels to determine how well your blood utilizes oxygen.
Equipped with an always-on altimeter that lets you see your elevation changes in real-time as you climb up or down.
Features Apple Fitness+ – A premium fitness service powered by Apple that gives you access to world-class workouts by the world's best trainers. Workout metrics can also be synced to your iPhone, iPad, and Apple TV.
Features a compass app that offers three different views, and you can also retrace your steps using the backtrack feature.
Features a medication app that lets you log your medications such as supplements, vitamins, and more so that you never get to skip your schedules.
Equipped with a temperature sensor that can monitor your skin temperature and will also help track the ovulation period for women.
Pros
Elegant and premium design.
Display is so bright at 2000nits.
A comprehensive health tracker.
A standalone watch that lets you call without an iPhone.
Onboard 64GB storage capacity.
Features ECG and blood oxygen measurements.
Fast charging
Cons
Battery life isn't so impressive.
Not compatible with Android devices.
Quite pricey.
Full Specifications
| | |
| --- | --- |
| ABOUT DEVICE | ABOUT DEVICE |
| Device name | Apple Watch Series 9 (stainless steel) |
| Device type | |
| Gender | |
| Release date | September, 2023 |
| Predecessor | Apple Watch Series 8 |
| Successor | — |
| Versions | GPS/WiFi/Blutooth/Cellular Model |
| BODY | BODY |
| Dimension | 41 x 35 x 10.7mm (41mm), 45 x 38 x 10.7 mm (45mm) |
| Weight | 42.3g (41mm), 51.5g (45mm) |
| Shape | Rectangular |
| Case material | Stainless steel |
| Strap material | Silicone, Stainless steel, Textile |
| Bezel material | Stainless steel |
| Strap size | 22mm (41mm), 24mm (45mm) |
| Interchangeable strap | |
| Screen protection | |
| Water resistance | |
| Durability test | — |
| Swim-proof | Yes |
| Color | Gold, Graphite, Silver |
| DISPLAY | DISPLAY |
| Display size | 1.69 inches (41mm), 1.9 inches (45mm) |
| Display type | 2000nits, LTPO OLED |
| Display resolution | 352 x 430 pixels (41mm), 396 x 484 pixels (45mm) |
| Pixel density | 326 ppi |
| Always on | Yes |
| Custom watch face | Yes |
| Input type | 1 Physical button, Digital crown, Touchscreen |
| CONNECTIVITY | CONNECTIVITY |
| Bluetooth | Bluetooth v5.3 |
| Bluetooth calling | Yes |
| GPS | BEIDOU, Galileo, GLONASS, GPS, QZSS |
| NFC | Yes |
| Wi-Fi | Yes |
| MEMORY | MEMORY |
| RAM | — |
| ROM | 64GB |
| Memory card slot | |
| CELLULAR CONNECTIVITY | CELLULAR CONNECTIVITY |
| Technology | (Cellular model), GSM / HSPA / LTE |
| SIM type | |
| Band | — |
| NOTIFICATIONS | NOTIFICATIONS |
| SMS alert | Yes |
| Calls alert | Yes |
| Email alert | Yes |
| Event reminder | Yes |
| Third-party apps alert | Yes |
| Reply to Notifications | Yes |
| MEDIA | MEDIA |
| Audio | |
| Bluetooth music | |
| Music streaming | Yes |
| Loudspeaker | |
| Microphone | |
| Camera | No |
| Radio | No |
| SENSORS | SENSORS |
| Sensor(s) | Accelerometer, Barometric altimeter, Compass, Gyroscope, Skin temperature sensor, Third-generation optical heart sensor, Water temperature sensor |
| ACTIVITY TRACKING | ACTIVITY TRACKING |
| Blood oxygen | |
| Blood Pressure | |
| Calories | Yes |
| Distance | Yes |
| ECG tracking | |
| Heart rate monitoring | Yes |
| Sleep tracking | Yes |
| Steps | Yes |
| Floors climbed | |
| Stress | Yes |
| Fall detection | |
| Menstrual cycle | |
| VO2 Max | Yes |
| Swim-tracking | Yes |
| Underwater heart rate tracking | Yes |
| On-screen workout | No |
| Sport modes | Yes |
| BATTERY | BATTERY |
| Battery type | Non-removable Li-ion battery |
| Battery capacity | 282mAh (41mm), 308mAh |
| Battery life | Battery saver mode: Up to 36 hours, Regular: Up to 18 hours |
| Charging type | (Fast charging), Charging dock |
| Charging time | 30min-1hr |
| Solar charging | No |
| PLATFORM | PLATFORM |
| Chipset | Apple S9 Chip (64bit) (A15 Bionic) |
| CPU | Dual core |
| GPU | — |
| Operating system | WatchOS 10 |
| MISC | MISC |
| Companion app | Apple Watch App |
| Compatibility | iPhone XS+ with iOS 17+ |
| Payment system | Apple Pay |
| Voice command | |
| Find my phone | Yes |
| Box content | Charger, Manual, Straps, Apple Watch Series 9 |