The Fitbit Inspire 3 released alongside the Versa 4 and Sense 2 is the successor to the Fitbit Inspire 2. It comes with a more colorful display and can now measure blood oxygen as well as welcomes more workout modes. Meanwhile, like the Inspire 3, the Charge 5 released in 2021 succeeds Fitbit Charge 4, and it has a more colorful display and health tracking features than its predecessor. The Charge 5 and the Inspire 3 are entry-level fitness trackers for fitness enthusiasts and in this article, we'll discuss the differences and help you decide which is better.
The Difference Between Fitbit Charge 5 and Inspire 3
In a nutshell, the difference between the Inspire 3 and Charge 5 is that the latter has a more durable build. It also has an NFC chip that enables Fitbit Pay and an inbuilt GPS that allows you to map your routes without your phone. Moreover, it features ECG tracking and an EDA sensor that enables it to monitor your stress levels. Meanwhile, the Inspire 3 has more sports modes and a longer battery life.
In other words, the Charge 5 has a better build quality and more activity-tracking features than Inspire 3. This explains why the Charge 5 retails for $150 compared to the Inspire 3 which retails for $100.
Fitbit Inspire 3 vs Charge 5 Full Specifications Compared
 
 
Product Info

Fitbit Inspire 3 Specifications, Features and Price

Fitbit Charge 5 Specifications, Features and Price

Price

$

88.95
ABOUT DEVICE
ABOUT DEVICE
ABOUT DEVICE
Device name
Fitbit Inspire 3
Fitbit Charge 5
Device type
Fitness smartband
Fitness smartband
Gender
Unisex
Unisex
Release date
September, 2022
September, 2021
Predecessor
Fitbit Inspire 2
Fitbit Charge 4
Successor
—
—
Versions
—
—
BODY
BODY
BODY
Dimension
39.32 x 18.6 x 11.75 mm
36.7 x 22.7 x 11.2 mm
Weight
17.69 g
28g
Shape
Rectangular
Rectangular
Case material
Plastic Resin
Aluminum
Strap material
Silicone
Silicone
Bezel material
Plastic Resin
Aluminum
Strap size
140 – 180mm (small), 180 -220mm (big)
140 – 180mm (small), 180 -220mm (big)
Interchangeable strap
Yes
Yes
Screen protection
Corning Gorilla Glass
Corning Gorilla Glass 3
Water resistance
Yes, 5ATM
Yes, 5ATM
Durability test
—
—
Swim-proof
Yes, recommended
Yes, recommended
Color
Black/black band, Black/liliac band, Black/morning-glow band
Black/Graphite Stainless Steel strap, Lunar White/Soft-Gold Stainless Steel strap, Steel Blue/Platinum Stainless Steel strap
DISPLAY
DISPLAY
DISPLAY
Display size
1.4 inches
1.04 inches
Display type
AMOLED
450nits, AMOLED
Display resolution
206 x 124 pixels
0.86″ x 0.58″px
Pixel density
171.7 PPI
326 ppi
Always on
Yes
Yes
Custom watch face
Yes
Yes
Input type
Touchscreen
Touchscreen
CONNECTIVITY
CONNECTIVITY
CONNECTIVITY
Bluetooth
Bluetooth v4.0
Bluetooth v4.0
Bluetooth calling
No
No
GPS
(connected GPS), No
Yes
NFC
No
Yes
Wi-Fi
No
No
MEMORY
MEMORY
MEMORY
RAM
—
—
ROM
—
—
Memory card slot
No
No
CELLULAR CONNECTIVITY
CELLULAR CONNECTIVITY
CELLULAR CONNECTIVITY
Technology
None
None
SIM type
None
None
Band
—
—
NOTIFICATIONS
NOTIFICATIONS
NOTIFICATIONS
SMS alert
Yes
Yes
Calls alert
Yes
Yes
Email alert
Yes
Yes
Event reminder
Yes
Yes
Third-party apps alert
Yes
Yes
Reply to Notifications
-
-
MEDIA
MEDIA
MEDIA
Audio
No
No
Bluetooth music
No
No
Loudspeaker
No
No
Microphone
No
No
Camera
No
No
Radio
No
No
SENSORS
SENSORS
SENSORS
Sensor(s)
Vibration motor
EDA Stress sensor, Vibration motor
ACTIVITY TRACKING
ACTIVITY TRACKING
ACTIVITY TRACKING
Blood oxygen
Yes
Yes
Blood Pressure
-
No
Calories
Yes
Yes
Distance
Yes
Yes
ECG tracking
No
Yes
Heart rate monitoring
Yes
Yes
Sleep tracking
Yes
Yes
Steps
Yes
Yes
Floors climbed
-
No
Stress
Yes
Yes
Fall detection
No
No
Menstrual cycle
Yes
Yes
VO2 Max
Yes
Yes
Swim-tracking
Yes
Yes
Underwater heart rate tracking
No
No
On-screen workout
No
No
Sport modes
40
20
BATTERY
BATTERY
BATTERY
Battery type
non-removable Lithium-polymer
non-removable Lithium-polymer
Battery capacity
—
—
Battery life
Regular: 10 days
Regular: 7 days+, Standby:10 days+
Charging type
Charging dock
Charging dock
Charging time
1-2 hours
2hrs
Solar charging
No
No
PLATFORM
PLATFORM
PLATFORM
Chipset
—
N/A
CPU
—
N/A
GPU
—
N/A
Operating system
Fitbit OS
Fitbit OS
MISC
MISC
MISC
Companion app
Fitbit App
Fitbit App
Compatibility
Android OS 8.0+, iOS 14.0+
Android, iOS
Payment system
None
Fitbit Pay
Voice command
No
No
Find my phone
Yes
Yes
Box content
Charger, Fitbit Inspire 3, Manual, Straps
Charger, Fitbit Charge 5, Manual, Straps
Fitbit Inspire 3 vs Charge 5 Features Review
Design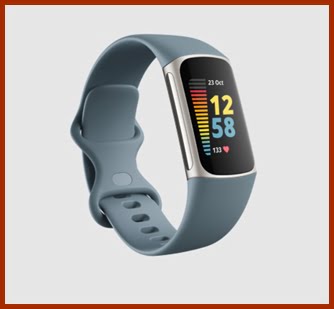 The Inspire 3 and Charge 5 both have a durable, compact, and lightweight design. You can wear any of these two all day long without feeling the need to remove it. It's just what a smartband should be.
Both smartbands have a 5ATM rating, this represents 50 meters waterproof which means you can wear any of these to the pool.
However, while the Inspire 3 has a resin case, the Charge 5 is slightly slimmer and has a more durable aluminum case that leaves it with a more attractive appearance.
Display
Unlike their respective predecessors, the Inspire 3 and Charge 5 ditched monochrome OLED for a more colorful and brighter AMOLED display that's easier to read.
Although, the Inspire 3 with its longer case has a slightly bigger display size compared to the Charge 5. Some individuals might have a problem reading complications on the tiny displays. Nonetheless, the display of these two is very vivid and can easily be read even under direct sunlight.
You get the option to customize the displays, while a touch-sensitive screen serves as means of interaction on these two.
Health tracking
Apart from the difference in design quality, these two also differ in the available health-tracking features. While both smartbands can monitor your heart rate, sleep, steps, and calories, the Charge 5 is a more comprehensive fitness tracker. It has an inbuilt GPS that will allow you to map your routes during outdoor workouts without carrying your phone along. Meanwhile, the Inspire 3 requires your phone's GPS to map routes which means you must carry your phone along.
The Charge 5 also has an ECG and EDA stress sensor. These sensors are located on both sides of the device. You can measure ECG and stress levels by placing your finger on the sides of the Charge 5.
Like I mentioned earlier, the Inspire 3 like Versa 4 and Sense 2 have more sports modes. It has 40 sports modes compared to 20 on Charge 5.
Notifications
With the Charge 5 and Inspire 3, you have the ability to receive message notifications on the device and you can reply with emojis and preset replies. When you enable notifications for your favorite apps in the Fitbit app and your phone is nearby, you will get message notifications. You can modify the available preset replies from the Fitbit app.
Both smartbands also feature Do not disturb and sleep modes that allows you to mute notifications.
Being a more advanced smartband, the Charge 5 features an NFC chip that enables Fitbit Pay. This will allow you to store your card details on the device and you will be able to make non-contactless payments at supported terminals where this service is available.
Battery Life
While the Charge 5 has a stronger build and more health-tracking features, it has a shorter battery life than Inspire 3. Though, the Charge 5 with up to 7 days of battery life will let you go long from a single charge. It's up to 10 days with Inspire 3.
Fitbit Inspire 3 or Charge 5 – Verdict
So far, you can see that the Charge 5 is clearly a more advanced health tracker. It has better build quality and features Fitbit Pay. Moreover, it features ECG and an EDA stress monitor while also having a decent battery life. It's clearly a better smartband, but it will cost you more.
On the other hand, the Inspire 3 is a cheaper alternative but still a decent fitness tracker. It has more workout modes and a longer battery life. If you have a tight budget, the Inspire 3 is a good selection.