21 months after Google acquired Fitbit, this is the first time we're seeing a Fitbit smartwatch with a highly influenced Wear OS ecosystem and a Google smartwatch with health tracking driven by Fitbit technologies. Fitbit Sense 2 and Versa 4 were released in September, and in October 2022, the much talked about Pixel Watch was released. So obviously, these are some of the hottest smartwatches right now. However, the Sense 2 and Versa 4 lack one very important feature which is music options. You can't add music to these two. Meanwhile, the Google Pixel watch is equipped with a massive 32GB that allows you to add as many songs as possible. Several publications have cited that this is a deliberate omission aimed at getting customers to settle for the Pixel Watch.
Well, whatever the case, in today's comparison, we'll take a look at the differences between the Sense 2 and Pixel Watch.
Note that the Google Pixel Watch is available in two models; Wi-Fi and Cellular model. The Cellular model is a standalone smartwatch that's equipped with an eSIM that enables it to make and receive calls without connecting to a smartphone.
Fitbit Sense 2 vs Pixel Watch – Full Specifications Comparison
 
 
Product Info

Fitbit Sense 2 Full Specifications, Features and Price

Google Pixel Watch - Full Smartwatch Specifications, Features and Price

Price

$

209.95
ABOUT DEVICE
ABOUT DEVICE
ABOUT DEVICE
Device name
Fitbit Sense 2
Google Pixel Watch
Device type
Fitness/Sport smartwatch
Fitness/Sport smartwatch
Gender
Unisex
Unisex
Release date
September, 2022
October, 2022
Predecessor
Fitbit Sense
None
Successor
—
—
Versions
—
LTE & WiFi
BODY
BODY
BODY
Dimension
40.4 x 40.4 x 11.2 mm
41 x 41 x 12.3 mm
Weight
37.64g
36 grams
Shape
Square
Circular
Case material
Aluminum
Stainless steel
Strap material
Silicone
Fluoroelastomer
Bezel material
Stainless steel
Stainless steel
Strap size
140 – 180mm (small), 180 -220mm (big)
130-175 mm (small), 165-210 mm (big)
Interchangeable strap
Yes
Yes
Screen protection
Corning Gorilla Glass 3
Corning Gorilla Glass 5
Water resistance
Yes, 5ATM
Yes, 5ATM
Durability test
—
—
Swim-proof
Yes, recommended
Yes, recommended
Color
Graphite/grey band, Platinum/lunar-white band, Soft-gold/blue-mist band
Champagne-gold case/Hazel band, Matte-black case/Obsidian band, Polished-silver case/Chalk band, Polished-silver case/Charcoal band
DISPLAY
DISPLAY
DISPLAY
Display size
1.58 inches
1.2 inches
Display type
AMOLED
AMOLED
Display resolution
300 x 300 pixels
450 x 450
Pixel density
268.5 PPI
320 PPI
Always on
Yes
Yes
Custom watch face
Yes
Yes
Input type
1 Physical button, Touchscreen
1 Haptic rotating crown, 1 Physical button, Touchscreen
CONNECTIVITY
CONNECTIVITY
CONNECTIVITY
Bluetooth
Bluetooth v5.0
Bluetooth v5.0
Bluetooth calling
Yes
Yes
GPS
GLONASS, GPS
BEIDOU, Galileo, GLONASS, GPS
NFC
Yes
Yes
Wi-Fi
Yes
Yes
MEMORY
MEMORY
MEMORY
RAM
—
2GB RAM
ROM
4GB
32GB
Memory card slot
No
No
CELLULAR CONNECTIVITY
CELLULAR CONNECTIVITY
CELLULAR CONNECTIVITY
Technology
None
None
SIM type
None
None
Band
—
—
NOTIFICATIONS
NOTIFICATIONS
NOTIFICATIONS
SMS alert
Yes
Yes
Calls alert
Yes
Yes
Email alert
Yes
Yes
Event reminder
Yes
Yes
Third-party apps alert
Yes
Yes
Reply to Notifications
Yes (preset replies)
-
MEDIA
MEDIA
MEDIA
Audio
mp3/mp4
mp3/mp4
Bluetooth music
—
Yes
Loudspeaker
Yes
Yes
Microphone
Yes
Yes
Camera
No
No
Radio
No
No
SENSORS
SENSORS
SENSORS
Sensor(s)
EDA sensor, Vibration motor
—
ACTIVITY TRACKING
ACTIVITY TRACKING
ACTIVITY TRACKING
Blood oxygen
Yes
Yes
Blood Pressure
No
No
Calories
Yes
Yes
Distance
Yes
Yes
ECG tracking
Yes
Yes
Heart rate monitoring
Yes
Yes
Sleep tracking
Yes
Yes
Steps
Yes
Yes
Floors climbed
No
-
Stress
Yes
Yes
Fall detection
No
Yes
Menstrual cycle
Yes
Yes
VO2 Max
Yes
Yes
Swim-tracking
Yes
Yes
Underwater heart rate tracking
No
No
On-screen workout
Yes
—
Sport modes
40
Yes
BATTERY
BATTERY
BATTERY
Battery type
non-removable Lithium-polymer
Non-removable Li-ion battery
Battery capacity
—
294mAh
Battery life
Regular: 6 Days+
Up to 24hrs
Charging type
USB charging
USB-C magnetic charger
Charging time
30min-1hr
1hrs 20min
Solar charging
No
No
PLATFORM
PLATFORM
PLATFORM
Chipset
—
Exynos 9110
CPU
—
1.1GHz Dual-core (Cortex®-A53)
GPU
—
Mali™-T720 MP1
Operating system
Fitbit OS
Wear OS 3.5
MISC
MISC
MISC
Companion app
Fitbit App
Google Pixel Watch app
Compatibility
Android OS 8.0+, iOS 14.0+
Android OS 8.0+
Payment system
Fitbit Pay, Google Pay
Google Pay
Voice command
Yes, Alexa
Google Assistant
Find my phone
Yes
Yes
Box content
Charger, Fitbit Sense 2, Manual, Straps
Charger, Google Pixel Watch, Manual, Small & large straps
Fitbit Sense 2 vs Pixel Watch Features Reviewed
Design – Pixel Watch wins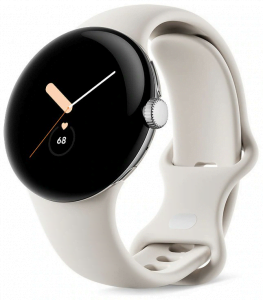 The first difference you notice between the Sense 2 and Pixel Watch is the appearance. While the latter is circular, the former has a square shape.
Both watches are very compact and lightweight (some of the lightest watches). Though, the Sense 2 is slightly slimmer and more compact. Both watches are also rated 5ATM which means each of these is waterproof up to 50 meters. In other words, it's very safe to wear the Pixel Watch or Sense 2 while swimming.
The build quality differs, the Sense 2 has an aluminum case, and stainless steel bezel paired with silicone straps while Corning Gorilla Glass 3 protects the display. On the other hand, the Pixel Watch has a stainless steel case, and stainless Steel bezel paired with fluoroelastomer straps while a more durable Corning Gorilla Glass 5 protects the display.
In terms of navigation, the Pixel Watch spots a digital rotating crown similar to what you get on the Apple Watch. It also has a physical button plus a touch-sensitive screen. Meanwhile, the Sense 2 offers a physical button and touchscreen display for navigation.
The Pixel Watch obviously has a more durable and refined build than the Sense 2.
Display – Pixel Watch wins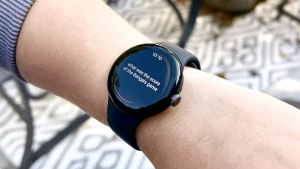 The Sense 2 just like Pixel Watch has an AMOLED display. Both watches have a very colorful display that is easy to read even under direct sunlight. Though, the Pixel Watch with a higher pixel density offers a crisper image quality.
The watch face of these two watches is customizable. For the Sense 2, you can choose more watch faces from the Fitbit app. And for Pixel Watch, you can choose more watch faces from the Google Playstore.
The interface of both watches is also great, though the Pixel Watch has a more sophisticated interface that allows you to do so much more effortlessly from the watch.
Fitness Tracking – Fitbit Sense 2 wins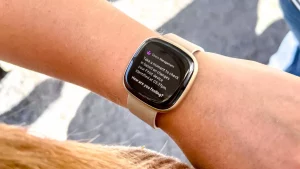 Fitness tracking is at the center of these two watches. Each of these two is packed with a handful of sensors that enables tracking for all the basic and advanced health metrics.
With Fitbit powering fitness tracking on the Pixel Watch, it shares similar health tracking with Sense 2. Both watches will track your sleep in all stages and will deliver a sleep score to help you better understand how well you have slept.
Both watches will also track heart rate variability, steps, calories, floors climbed, and more. You also get ECG measurements on each of these two as well as 40 preloaded sports modes.
There is an inbuilt GPS in the Sense 2 and Pixel Watch that will enable these two to track your routes and locations without connecting to your phone when you workout outdoors.
However, the Sense 2 has a dedicated temperature sensor that enables it to track your skin temperature variation during the day and when you wear it to sleep. The Pixel Watch lacks a temperature sensor.
Meanwhile, the Pixel Watch features incidental fall detection that will allow the watch to automatically start a call and send your location to a preset emergency contact when it detects a hard fall. It also features international emergency calling (not available in every country).
Media and Productivity – Pixel Watch wins
The Pixel Watch is equipped with a 32GB storage capacity that will allow you to download music to the watch. YouTube Music and Spotify are the main music services available for Wear OS.
Moreover, users in US and Canada can stream music directly from the YouTube Music app on the Pixel Watch.
Meanwhile, the Sense 2 and Versa 4 lack any music options. The Fitbit Sense and Versa 3 used to have the option to download music via Deezer or Pandora (US only). There was also the option to control music on Spotify on your phone. Now these options are not available on Versa 4 and Sense 2 which for me is very awkward.
Making and Receiving Calls – Pixel Watch wins
Although the Versa 3 and Sense had a speaker and microphone, they were only able to take calls, but can't start a call. Fitbit has fixed this with the Versa 4 and Sense 2. These two like their predecessors are equipped with a mic and speaker and can make and receive calls when your phone is nearby.
The Google Pixel Watch is also equipped with a microphone and speaker and can make and receive calls.
Moreover, the Pixel Watch is available in Wi-Fi and Cellular models, the cellular equipped with an eSIM is a standalone smartwatch that can make and receive calls without connecting to your iPhone.
Voice Assistants and Making Payments
As a result of the presence of a microphone, the Sense 2 features Amazon Alexa while Pixel Watch features Google Assistant. The Versa 3 and Sense have both Alexa and Google Assistant, now it's only Alexa on Sense 2 and Versa 4.
In terms of making payments, both Sense 2 and Pixel Watch will allow you to store your card details on the watch so that you can make non-contactless payments at supported terminals. The Sense 2 features both Fitbit Pay and Google Pay, while Pixel Watch has only Google Pay.
Managing Notifications – Pixel Watch wins
With the Sense 2 and Pixel Watch, you have several options to reply to messages with your voice, and emojis, or use preset replies. The Cellular model of the Pixel Watch will allow you to reply to messages when you are not connected to your phone.
Battery life – Sense 2 wins
So far, the Pixel Watch has defeated the Sense 2 in every aspect except fitness tracking and battery life. I think it's a stalemate for fitness tracking, however, the Sense 2 clearly beats the Pixel Watch on battery life. While you get up to 6 days with Sense 2, it's about 24hrs with Pixel Watch. Meanwhile, both watches support fast charging.
Prices
The Sense 2 retails for $300, while the WiFi model of the Pixel Watch retails for $350, it's $400 for the Cellular model.
Compatible Devices
The Sense 2 is compatible with both Android and iOS devices. The Fitbit app will work with Android 8.0+ and iOS 14 and above. Meanwhile, joining Samsung, Google Pixel Watch will only work with Android devices. It's compatible with Android 8.0 and above.
Fitbit Sense 2 vs Google Pixel Watch – Which is Better?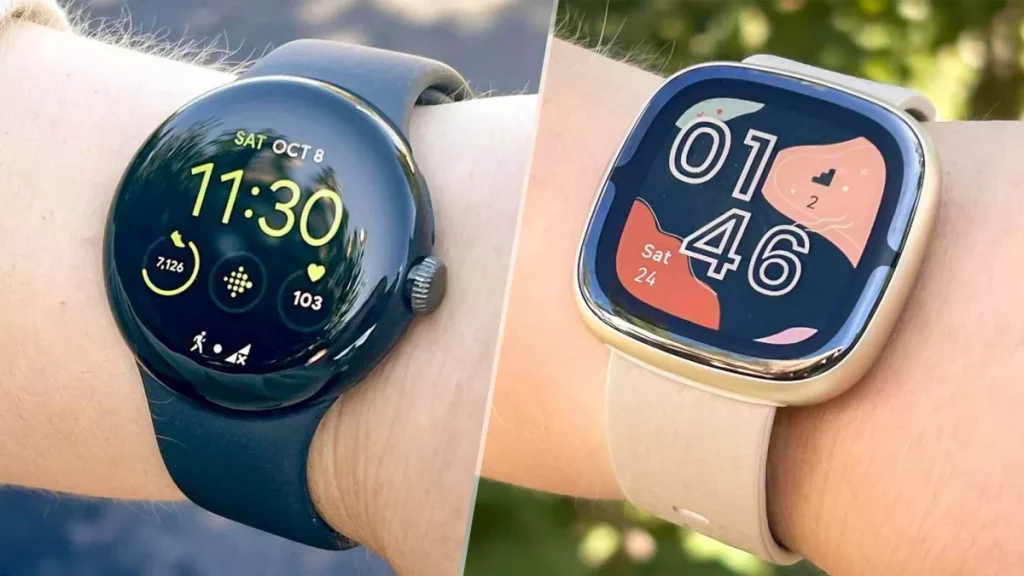 Without mincing words, the Pixel Watch is clearly a better smartwatch than the Sense 2. The music option is a major difference, it also has a better design as well as a more colorful display.
Nonetheless, if you want a longer battery life, the Sense 2 is the winner. Moreover, it's equally an outstanding health tracker with a skin temperature sensor which Pixel Watch lacks.