Unlike the Fitbit Versa 2, the Fitbit Versa 3 and Sense are both equipped with an inbuilt GPS that allows you to track your outdoor activities like your routes and locations without your phone. Inbuilt GPS is one of the big features that was introduced to the Versa 3, and with inbuilt GPS in a smartwatch, you don't need to carry your phone along to track your outdoor events. In this post, we'll guide you on mapping your routes and locations with Fitbit Versa 3 and Sense. We'll also take a look at the outdoor activity tracking accuracy of the Versa 3 and Sense.
How to Track Routes and Locations with Fitbit Versa 3
To track your routes and locations with the Versa 3, you need to engage in an outdoor workout like running, walking, hiking, biking and outdoor workout. These are the 5 activities out of a total of 21 workout modes that will activate GPS tracking.

To track your routes and locations with your Versa 3 or Sense, you simply navigate to the exercise app on the watch and start any of the 5 exercises mentioned. This will try to connect to GPS.
You should see GPS connecting, and once it's successfully, it says GPS connected and the device will map your routes, locations and pace.
How to See GPS Map on Fitbit Versa 3
After an outdoor workout, you will need the Fitbit app to view maps of your activity. This is unlike the Galaxy Watch 3 which shows routes and locations right on the watch but requires the Samsung Health app to see the full details. Though, Versa 3 will show a summary of your workout which includes Active Zone minutes, duration of the activity, total distance, average pace, average heart rate, maximum heart rate, calories burnt, and total steps.
After a workout, open the Fitbit app and drag it down to sync with your Fitbit Sense or Versa 3. This normally takes a few seconds.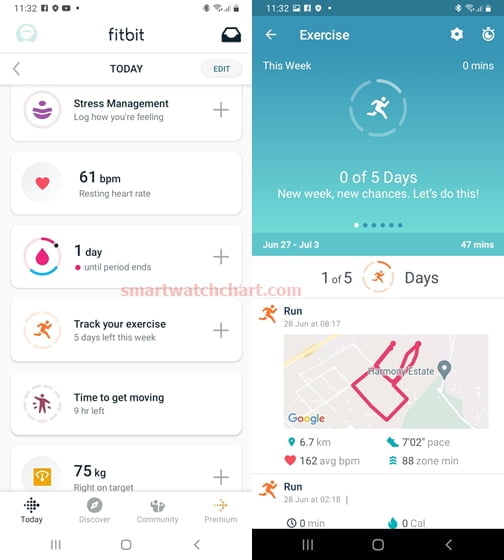 After syncing is finished, navigate and select the Track your exercise tab, then click on the map you wish to see.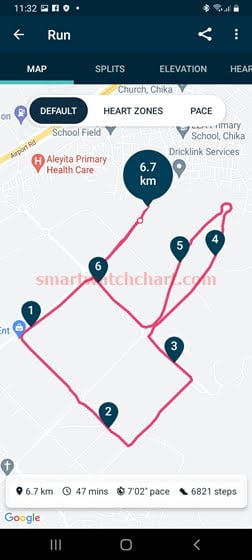 The app will show the map for your workout activities. By default, you should see your routes and locations. The bottom of the page contains details such as total distance, duration of the exercise, your average pace, and total steps for the activity.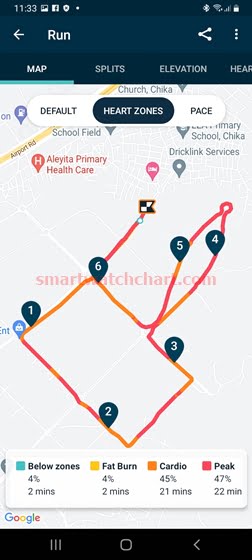 If you tap on the Heart Zones tab, it shows how much time you spent in the fat burn, Cardio, and Peak zones as well as time spent below these zones. Recall that time spent in each of these zones determine how many Active Zone Minutes (AZM) you accumulate. You get more AZM when you engage in vigorous exercises like running and cycling.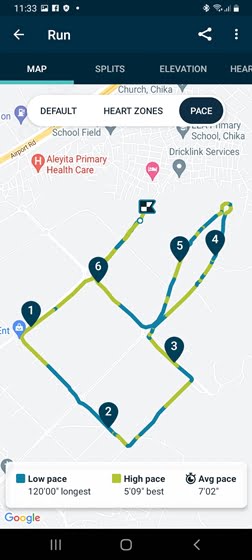 If you tap on the Pace tab, you will see your lowest pace, best and average pace. It also highlights each of these with a specific color.
Furthermore, you can also see details for Laps. Simply select the Splits section to view the different laps and their respective pace.
Each lap represents 1Km. It also shows the lap with the best pace.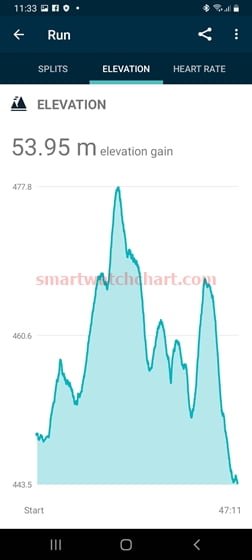 With an altimeter in Versa 3 and Sense, it also tracks your elevation data. If you tap on the Elevation tab, you should see a graph of your elevation gain. It shows the starting elevation and final elevation.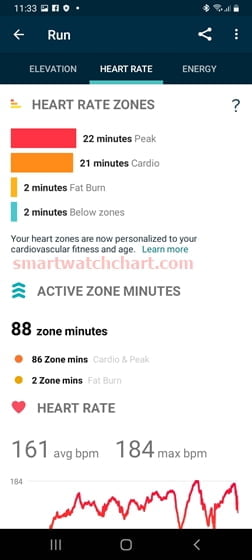 When you tap on the Heart rate tab you get to see details of your heart rate. As we mentioned earlier, you earn AZM for every minute spent in moderate or vigorous exercise.
You earn 1 AZM for every minute spent in moderate exercise and this is called the fat burn zone.
You earn 2 AZM for every minute spent in vigorous exercise and these are called Cardio and Peak zones.
This is inline with the recommendation of the American Heart Association to get 150 minutes of moderate or 75 minutes of vigorous exercise per week.
The app shows the time spent in each of these zones as well as your average and maximum heart rate.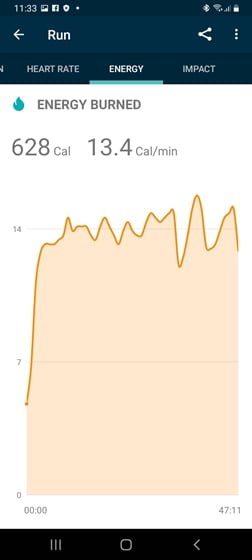 If you tap on the energy tab, you get to see the total calories burned and the calories burned per minute.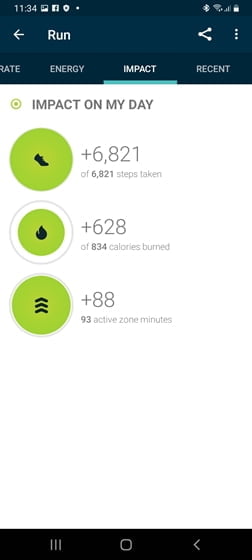 If you tap on the Impact tab, it shows a summary of your workout. It shows the total steps, total calories burnt, and Active Zone Minutes earned.
Outdoor Activity Tracking Accuracy of Fitbit Versa 3 and Sense
To test the routes and location tracking accuracy of the Versa 3, I wore it alongside the Apple Watch Series 7, Galaxy Watch Active 2, and Band 4 Pro.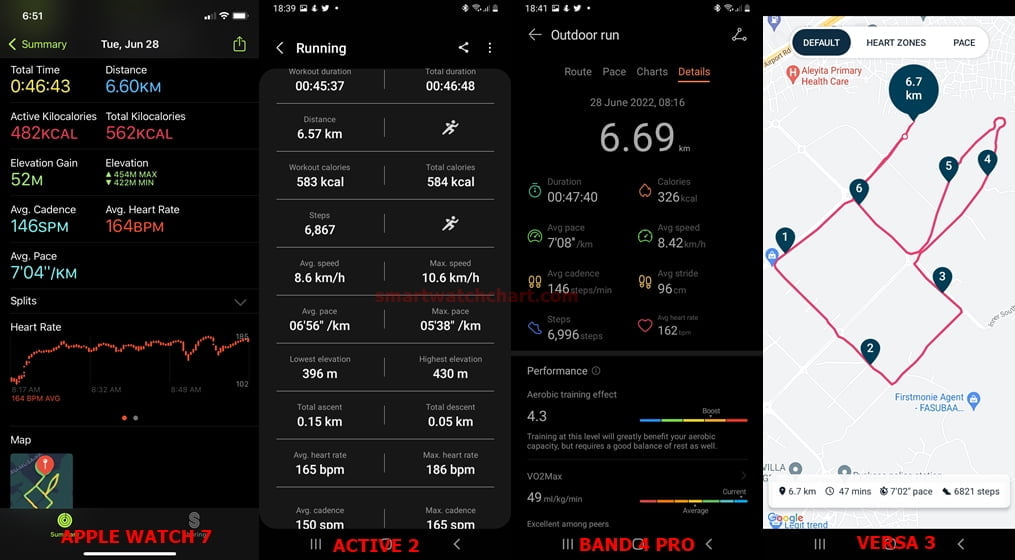 The result was almost the same across all devices with very small differences. This shows that Versa 3 is accurate in mapping my routes, locations, and pace.
Conclusion
In all, with an inbuilt GPS in the Fitbit Versa 3 and Sense, these two will map your routes and locations when you wear any of these for an outdoor workout. And from my many tests and comparisons against other high-end smartwatches like the Galaxy Watch 4 Classic and Apple Watch Series 7, the Versa 3 has proven to be very accurate and consistent in tracking my routes and locations.