Just like Spotify, YouTube Music is one of the ways you can enjoy music on the Galaxy Watch 5. You need a Premium account to listen to music with YouTube Music on Galaxy Watch 5. With YouTube Music Premium you can stream or download music to the Galaxy Watch 5 which you can listen to offline. In this guide, you will learn all there is to know about using YouTube Music on the Galaxy Watch 5 and Galaxy Watch 5 Pro plus all the limitations.
How to Use Youtube Music on Galaxy Watch 5 – All Features and Limitations
How to Get Youtube Music on Galaxy Watch 5
The YouTube Music app on your Galaxy Watch 5 works independently. You must not install YouTube Music on your phone to use the app on your watch.
Step 1: Install YouTube Music

Before you can use YouTube music on the Galaxy Watch 5, you need to first install the app. This can be done directly from the watch. Simply swipe up from the homescreen to access your list of apps. Locate the Google Playstore app and open it.

Once in Google Playstore, simply use the search bar to search for YouTube Music. Oftentimes, the app is shown among the featured app list. Tap on the YouTube Music app and tap on install to get it on your Galaxy Watch.

Step 2: Sign into Your Google account and subscribe to YouTube Music Premium

Subscribe to Youtube Music Premium

Once you have installed YouTube Music, you must sign into your Google account to continue. If you have YouTube Music Premium already on the account, you should be taken directly to the dashboard of the app. Otherwise, you should see a prompt to upgrade to YouTube Music Premium. If you haven't subscribed, tap on open on phone and complete payment.

Step 3: Connect a Bluetooth headphone

Although the Galaxy Watch 5 has a speaker, you must connect to a Bluetooth headphone before you can listen to music with Youtube Music. This is just like the Spotify app which also requires you to connect a headphone before music can be played. You can connect a Bluetooth headphone by going to settings>>Connections>>Bluetooth.

The Youtube Music Player Interface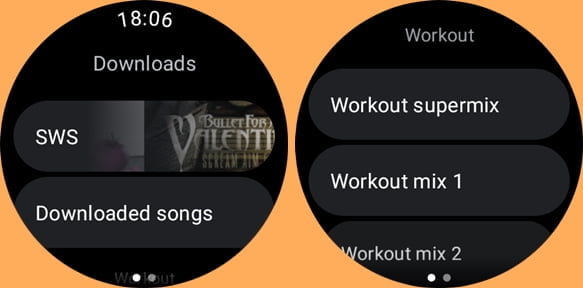 When you open the YouTube Music app, it takes you to the main dashboard which shows your downloads and recommended playlists based on your interests. If you scroll down further, you should see the library and settings options.

The library section contains recently played tracks and playlists. Note that you can't create playlists directly from the watch and I noticed that playlists I created from the YouTube Music app on my phone didn't show up under the playlist tab. Rather, only the "Your likes" playlist is available. Any song you like on the watch or on your phone will be added to the "Your Likes" playlist.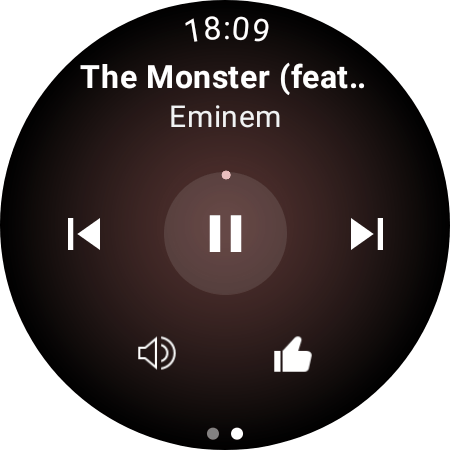 If you swipe left from the main dashboard, you get to see the music player interface. This is where the current music you playing will show up. From the interface, you have the options to skip to the previous or next track. And you can like a track by tapping on the like icon. The liked track will be added to your liked songs playlist.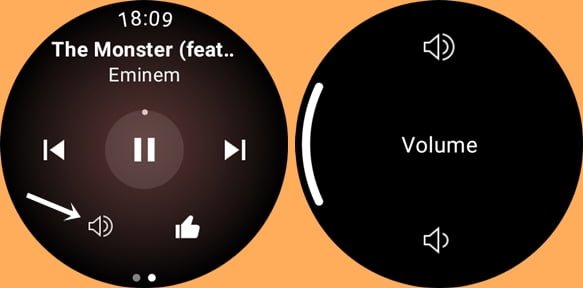 You can reduce or increase the volume when you tap on the speaker icon. Tap on the upper speaker icon to increase volume and the lower speaker icon to reduce volume. If you have enabled the digital rotating bezel, you can easily adjust the volume using the digital rotating bezel feature. Go to Settings>>General>>Touch bezel to enable digital rotating bezel.
Streaming Music With YouTube Music on Galaxy Watch 5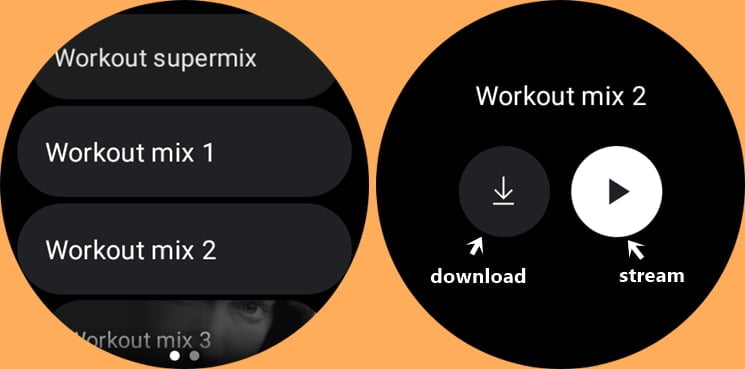 With Wi-Fi enabled on your Galaxy Watch 5, you can stream music with Youtube Music directly on the watch without your phone. If you own the LTE model, you have the option of using Wi-Fi or Cellular data to stream music.
If you wish, you can also stream music via your phone's Wi-Fi or cellular data (just make sure your phone is nearby)
How to Download Music With YouTube Music on Galaxy Watch 5

To download music on your Galaxy Watch 5 using the YouTube Music app is very simple. You can download a playlist and unlike Spotify, you can also download single tracks. The music you download to the watch can be listened to offline.

The YouTube Music app is set to automatically download music via your watch's Wi-Fi. So you need to enable Wi-Fi on your watch to download music. If you wish to download music using your phone or watch cellular data, then go to settings on the YouTube Music app and locate downloads. Scroll down and toggle off Download over Wi-Fi only.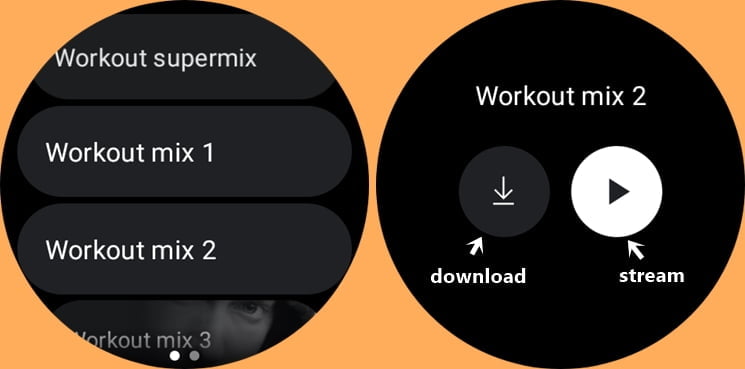 To download a playlist, simply select a playlist from your recommendation, then tap on the download icon to start downloading the playlist. To download the Your likes playlist, go to library >>playlist, select the "Your likes" playlist and tap on the download icon to download it.

You also have the option to download music in bulk using the smart download option. Open the app, scroll to settings, and tap on downloads. Then choose your preferred option, you can download 50, 100, 200, 300, 400, or 500 songs in bulk.
If you wish to download a single track, first, you need to start playing that song on your phone. The recently played tracks will sync to the Youtube Music app on your Galaxy Watch. Simply go to last played under library, tap on any of the tracks and tap on the download icon to start downloading it.
Oftentimes, it might take time for recently played tracks on your phone to sync to the watch. In this case, open the app and scroll down to settings, scroll down to switch accounts, and select it. Switching between different accounts will force the app to sync with your phone.
The Limitations
Now, while the YouTube Music app for Galaxy watches is fantastic, it still has some limitations which hopefully may be fixed in the future.
You can't search for tracks like your would on your phone.
You can't create playlists.
You can't see the list of songs in a playlist. This is quite awkward considering that Spotify allows you to see all the tracks in a playlist and you can choose to play any.
Apart from the "Your likes" playlist, every other playlist you create on your phone doesn't show up in the playlist section. You can only access the newly created playlist from the last played section (that's if you have recently played the playlist).
Watch how to use Youtube Music on Galaxy Watch 5 and Galaxy Watch 5 Pro